Accumold
World Leaders In Micro Molding More than 30 years dedicated to micro injection molding and tooling.
Kompass Business Directory - Accumold
1711 SE Oralabor Rd
Ankeny IA 50021
United States
Latest products added Accumold
Additional information
Legal information - Accumold
| | |
| --- | --- |
| Nature | Headquarters |
| Year established | 1986 |
| Activity (SIC87) | (3000) |
| No employees | 350 Employees |
Presentation - Accumold
Accumold is a high-tech manufacturer of precision micro, small and lead frame injection molded plastic components. Utilizing processes developed from our Micro-Mold® technology, we design, build and produce unique molds and parts efficiently for a variety of markets that include Micro Electronics, Optics and Medical.

We produce components that range in size from 5cm on down with tolerances often in microns. Our customers require an uncompromising attention to detail, extremely high quality, low production costs, and our speed-to-market services.

- Our state-of-the-art facilities include a team of 50+ toolmakers. This group operates 24/7 to meet the high demand for their innovative services.

- Our production team serves around-the-clock to ensure that parts are produced on-time and to spec. This talented group is geared for speed and volume.

- Our production area is equipped to meet all of the market demands from our clean room to our automation and sub-assembly processes.

Even though micro-molding may seem new and novel, Accumold has been in the "micro" business for more than two decades and have produced billions of micro-molded parts over the years. It's where we started as a company, and it's where we continue grow, innovate and produce.
Company catalogues - Accumold
General Information - Accumold
Brands - Accumold
Micro-Mold®
Micro Molded components range in size from 5cm, with micro features, down to parts less than 1mm in size. These complex parts often include tight tolerances measuring only a few microns. Processes include: insert molding, clean room molding and 2-shot molding. Materials include: PEEK, Ultem, LCP, and most engineered thermoplastics.
Accumold
Accumold is a high-tech manufacturer of precision micro molded plastic components with part geometries from 5cm to less than 1mm in size. Processes include: insert molding, clean room molding and 2-shot molding. Materials include: PEEK, Ultem, LCP, and most engineered thermoplastics. Markets include: Micro Electronics, Medical, Micro Optics, Sensors and other emerging technologies.
I WANT TO GET MORE DETAILS ABOUT THE OFFER Accumold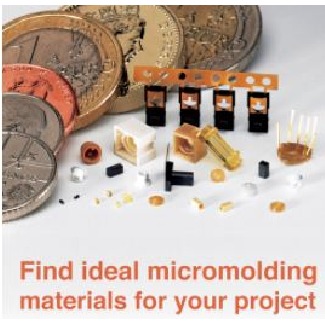 Micro Molding Capabilities - Material Selection
From Jun 29, 2021 to Jan 31, 2022
Material Selection
Micro molding often involves exotic or highly engineered compounds called thermoplastic resins. Accumold is accustomed to working with ...
News - Accumold
Press release
Aaron Johnson on The Robot Industry Podcast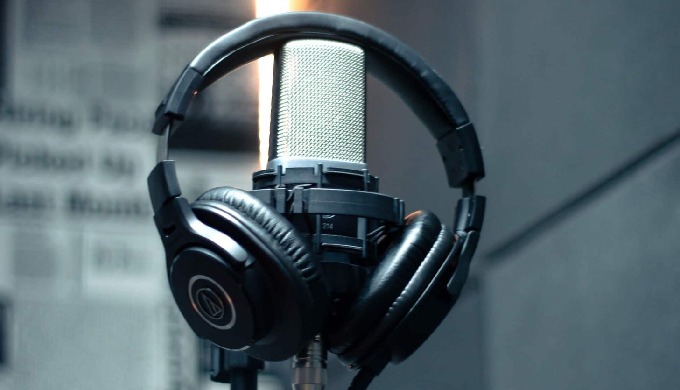 Date: June 29, 2021 3:33 PM
End: December 31, 2021 4:33 PM
Aaron Johnson on The Robot Industry Podcast
Our own Vice President of Customer Strategy, Aaron Johnson, was invited onto the The Robot Industry Podcast to discuss the invention of micro molding and the demand for micro plastics.
Show host Jim Beretta asked what actually classifies as micro molding, how many cavities our typical injection molding project has, the kinds of resin we use, how our approach and technology works, and of course how we use automation and robots to handle, harvest and package microscopic parts.
One fun story Aaron tells is how one part we made was so light and small, the airflow and static electricity made capturing the part an incredible challenge.
Jump To Audio
»
Full Transcript: Aaron Johnson on The Robot Industry Podcast
This transcript has been lightly edited for readability.
Jim Beretta, The Robot Industry Podcast:
I'd like to introduce our guest today. Aaron Johnson is the vice president of marketing and customer strategy and part of the technical sales team at Accumold. He is recognized as a leader on the subject of micro injection molding and has developed and presented numerous technical presentations on micro molding technology. He has been published in many industry trade publications and has been with Accumold since 2005. Welcome to the podcast, Aaron.
Aaron Johnson:
Thank you Jim. It's a pleasure to be here.
Beretta:
I'm glad you could make it. In our discovery call we both talked about the fact that we both have COVID puppies. You had to drive a while to get yours so if we hear some yips in the background we know that it's just one of our dogs vying for attention.
Johnson:
Absolutely.
Beretta:
One of the things I wanted to ask you is who is Accumold and how did you get into the molding industry, especially the micro molding industry?
Johnson:
That's a great question. Accumold was founded a little over 35 years ago by a couple of toolmakers who were seeing the need for small high precision plastics grow.
They were working for a micro electronics company in the tool shop, seeing the advent of what we know today as micro electronics. In 1985, Motorola had just come out with their gray brick cell phone. It was huge and it took two hands to use. It only made phone calls. And today we can't even conceive of something like that.
Johnson:
As they were thinking about the future need for micro plastics they quit their jobs and invented, what we believe was, the first true micro injection molding system dedicated to the efficiencies and the speed of small plastic components.
Their old company ended up being one of the first customers of Accumold back in the late eighties. They really were pioneering micro high-precision plastics. They started in a rented garage and it grew from there. We had the fantastic opportunity of being way ahead of the curve when it came to the demand for micro plastics.
Today as you look around and you see all the electronics around you and the sophistication that's involved it's just allowed us to participate and grow with that in a fun and fantastic way over the last 35 years.
You can listen to the full interview on The Robot Industry Podcast via
Spotify
,
Apple Podcasts
, or
Google Podcasts
.
Beretta:
I'm going to date myself a little bit because I actually owned one of those big old brick Motorola phones. When you talk about micro molded parts with sizes micro molded, and when you decide to quote a project, how do you determine when a part is too small or when it is too big?
Johnson:
That's a great question. There really isn't a textbook definition of what is micro molding so we've really defined it for ourselves over the last 30 plus years. In one sense, it's injection molding. If you're familiar with that process, you have to have a way for the plastic to melt and get into the cavity and a way for the mold to open and close. So, there's a basic set of what is molding. Certainly micro in size, as the name suggests, is a big component. Maybe the largest geometry or length is under a millimeter. Size is a big factor when it comes to what is micro molding.
Johnson:
The other real major component is micro features. The largest part that we mold is maybe four or five inches in diameter. We often refer to it as a one-ounce shot "size-ish."
We told ourselves we want to be experts with parts in this area. Even our larger parts we make have micro features to them. For example, one of the larger parts we mold is a cartridge for a diagnostics tool. It has these little micron sized fluidic channels for the product to function. It appears to be a larger part, but it has micro features.
Johnson:
The third way we define micro molding is micro in tolerance. With the critical components we build, we're dealing with plus or minus two or three microns in tolerance.
There's an exactness to the micro molding we're doing, and it goes beyond more of a traditional molding standpoint. We often hear from traditional molders, "the parts you mold are smaller than the gate sizes we have or they're smaller than the tolerances that we keep on some of the products." So it's really at the extreme end of molding from a size tolerance and a critical nature.
Johnson:
But what's challenging, is there's some gray area in terms of what parts really fit into true micro molding. We found, anecdotally, there's a general rule: We work on what we call critical components. If you can find twenty other molders to make a part, it's probably not something that we're going to take on. When a supply chain or supplier pushes back and says, "Nope, that's too small, that's too complex, those tolerances aren't something we're used to," that's usually where we get involved. There's a critical level to what we're doing that is not every day and that's where we find the most involvement and projects for our customers.
The Robot Industry Podcast transcript continues…
Page 2 »
You can listen to the full interview on The Robot Industry Podcast via
Spotify
,
Apple Podcasts
, or
Google Podcasts
.
https://open.spotify.com/episode/2psvXl8HyYpRjpL2yQAeXf
Other
DMACC + Scholarship = Accumold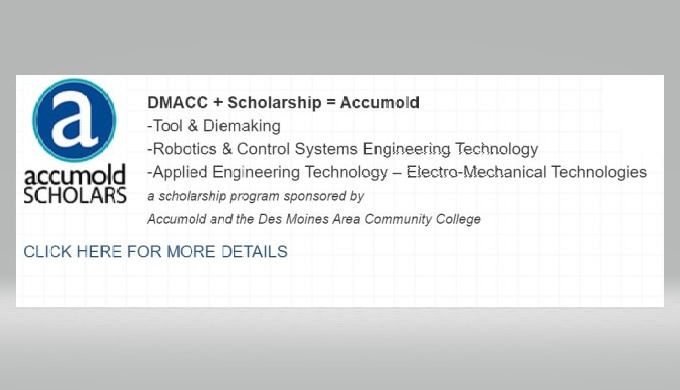 Date: January 1, 2021 5:00 AM
End: January 2, 2022 4:59 AM
Location: online
DMACC + Scholarship = Accumold
Tool & Diemaking
Robotics & Control Systems Engineering Technology
Applied Engineering Technology – Electro-Mechanical Technologies
a scholarship program sponsored by
Accumold
and the
Des Moines Area Community College
Next Informational Meeting:
TBD
VIRTUAL
Call Accumold HR for more information 515 963-2062
–Tool & Diemaking
–Robotics & Control Systems
—Electro-Mechanical Technologies
Activities - Accumold
Producer
Distributor
Service provider
Main activities within the Kompass classification
Other classifications (for some countries)
SIC (US 1987) : (3000)
NAICS (US 2012) : Other Industrial Machinery Manufacturing (333249)
NAICS (US 2012) : Plastics Product Manufacturing (3261)
NAICS (US 2012) : All Other Plastics Product Manufacturing (326199)
Secondary activities within the Kompass classification