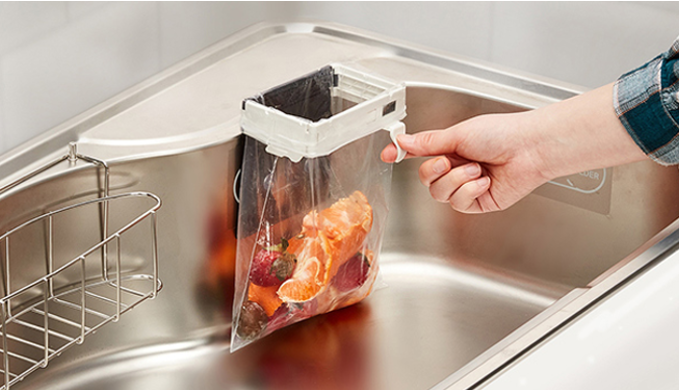 Majority of the food waste comes from the sink dishwasher, therefore, removing the food waste from where it comes from is the most efficient solution. However, putting another product inside the small dishwasher would make the space even more smaller. Wiseholder has been designed to utilize the sink dishwasher space with its minimal space occupancy
Description of the Product
Majority of the food waste comes from the sink dishwasher, therefore, removing the food waste from where it comes from is the most efficient solution. However, putting another product inside the small dishwasher would make the space even more smaller. Wiseholder has been designed to utilize the sink dishwasher space with its minimal space occupancy.
Due to the smell coming from the rottenness of the food waste, we have been using airtight containers such as zipper-bags and Lock&Lock containers. However, utilizing a separate zipper bag wastes the plastic bag, and using a container requires you to unpleasantly clean it up after throwing away the food waste. However, Wiseholder is a product that is eco-friendly and easy to use as it does not require you to clean up and it is possible to discard the food waste using only one rubbish bag.
Wiseholder does not require a separate machine, container or a custom bag. It is the solution where you only need one plastic bag to dispose the food waste easily.

# Technical Detail / Specifications
Wiseholder Mini (1-2L) size: 186.5mm*120mm*8.5mm (27mm with handle) weight: 110g
Wiseholder 3L size: 218.5mm*140mm*10mm (27mm with handle) weight: 130g
Wiseholder 5L size: 257.5mm*160mm*10mm (32mm with handle) weight: 160g
-U.S trademark patent application
-Australian trademark patent registration
-Japanese trademark patent, design patent registration.
Price of the Product
Price on request
I want to get more details about the product
Company catalogues - KM Search & Tech