W24IK3S, 23.8" Intel® Core™ i5 IP69K Stainless Panel PC
- Product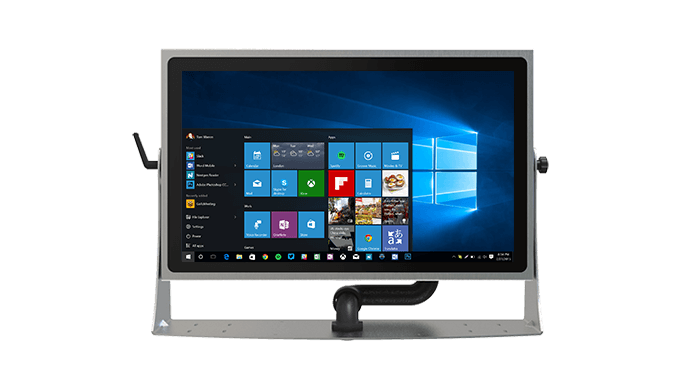 W24IK3S
23.8" Intel® Core™ i5 IP69K Stainless Panel PC
KEY FEATURES
Intel® Core™ i5-7200U, 2.50 GHz
Fanless cooling system
SUS 316 / AISI 316 stainless steel for food and chemical industries
Full IP69K waterproof enclosure
A true flat, easy-to-clean front surface with edge-to-edge
...
Description of the Product
W24IK3S
23.8" Intel® Core™ i5 IP69K Stainless Panel PC
KEY FEATURES
Intel® Core™ i5-7200U, 2.50 GHz
Fanless cooling system
SUS 316 / AISI 316 stainless steel for food and chemical industries
Full IP69K waterproof enclosure
A true flat, easy-to-clean front surface with edge-to-edge design
Waterproof sealed conduit pipe for cable protection
Support VESA mount, and optional Yoke mount stand
Support Glove/ Rain mode
Optical bonding (optional)
For Strict Hygiene Requirements
With stainless steel housing and IP69K protection for dust and water resistance, this Panel PC is ready for high-pressure, high-temperature washdowns regularly. The Panel PCs are designed for industries that require stringent disinfection processes and splashing cleanup routines found in Food, Beverage, and Chemical applications.
Extra Protection with Conduit Pipe
Never worry about exposed cables again. The custom-built waterproof conduit pipe is pre-installed to give an additional layer of protection for any peripheral cables connected to the device. The protection grants increased product longevity to reduce downtime in the production facilities.
Projected Capacitive Touchscreen
The highly-sensitive touch screen and PCAP multi-touch support make it easy for users to key in data, rotate images, drag and drop files, and zoom in with two or more fingers.
Price of the Product
Price not indicated
Characteristics of the Product
Type

Stainless Panel PC

Model

W24IK3S

Dimension

620 x 390 x 56 mm

Brand

Winmate

Certification

CE, FCC

Label

PCAP multi-touch

Origin

Taiwan
Category of the Product
I want to get more details about the product
Company catalogues - Winmate Inc.

Warehouse & logistics solution (English)
16 pages

Healthcare solution (English)
16 pages

Automotive industry solution (English)
24 pages

Infrastructure solution (English)
28 pages