Program Logic Controller (PLC) Training
- Service
Las Vegas -
United States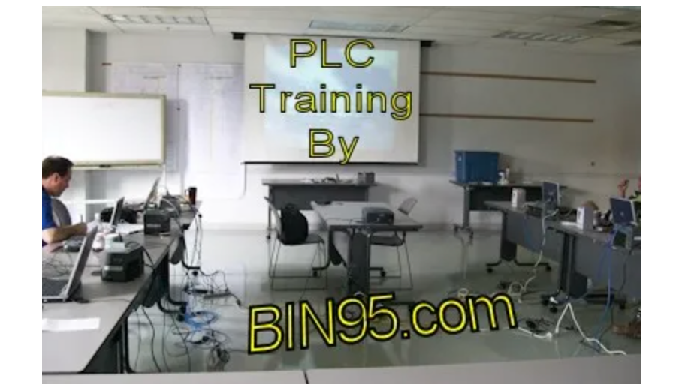 Description of the Service
(Specialize In Allen Bradley SLC500, PLC5, RSLogix PLC Training.)
Business Industrial Network provides
on-site
, customized Program Logic Controller (PLC programming training), for your maintenance and engineering staff. Once your team moves on to PAC training, a course is customized using your
RSLogix 5000 programs
. This is yet another way we are responding to our customers' needs. Our survey of over 300 companies and corporations reveals two well-known facts.
1.
The most unplanned downtime occurs during the off shifts.
2.
Many companies only have maintenance technicians with
PLC Technician Training certification
on the day shift.
Our studies on the true cost of production downtime prove that plc training of off-shift employees yields a great return on your investment (ROI). We have also found those who have had plc training previously, greatly benefit from our customized training. Maintenance technicians give two good reasons for receiving additional training from Business Industrial Network.
1.
"I took an OEM course a few years back, but they went too fast and taught topics I have never used."
2.
"When you hardly ever have to troubleshoot a PLC, you forget that classroom stuff."
The Training Solution:
Our customized PAC & PLC training for your maintenance department
(
What sets us apart from your other training options.
)
We review and use the actual PAC (RSLogix 5000) & PLC programs (RSLogix 500) you use in your facility.
We customize the topics, material, and level of expertise to match your current maintenance personnel's needs.
We actually train each employee, not just present the information. The instructor ensures each employee can perform the task, as each task is taught.
We deliver knowledge chosen to result in your facility becoming less OEM dependant resulting in less downtime and greater savings as a result of our training. Employees learn valuable tips that some OEMs may not think to share with you.
" We focus on real-world topics and techniques that better allow your employees to work with PLCs in the safest and reliable way. Most others just present the 'how to', not safety, good work habits, and the best way to perform a particular function.
We deliver the training in your facility, during the shifts that you request.
We start with hands-on classroom training, software simulations, and handouts that reflect your actual facility equipment.
We wrap up the world-class training with a quiz to assess effectiveness.
We follow up with a plan to backup all plc programs in your facility.
We leave you with a copy of the presentation for reviews and in-house training of future employees.
Free online PLC Introduction Video
A special thank you to our corporate training customers, Lear, Hanover, Chemical Lime, Amgen (A FDA regulated company) and BNFL (A DOE contractor)
,
Lowe's, and CVS (Main Distribution Centers), and Letterkenny Army Depot!
Also a special thanks to our long-standing corporate customers like International Paper, Weyerhaeuser, Green Bay Packaging, Georgia Pacific, F&P Georgia Inc., General Motors, Clemson University, Hitachi Computer Products Inc., Honeywell, and KV Pharmaceuticals. We appreciate
all of our past and future customers
. Also a special thanks to The Arkansas Workforce Investment Board for listing us in their State training database.
Why on-site customized PLC Training?
Our goal is to give your maintenance and engineering personnel the training they need to troubleshoot and maintain the equipment in your facility. Our training ranges from the basics for the beginner, to advanced training to aid your current technicians in working with new assets and technologies.
Business Industrial Network recommends that at least 1 person on each shift be competent in the following areas.
Safety
Basic use of your RSLogix software
Understanding ladder logic usage
Sound practices with Winzip, file management, downloading, and EPROM's
Set up and PC to PLC Communications
Setup/troubleshooting RSLinx Drivers
View program Online and Offline
Troubleshooting actual problems
Familiar with programming conventions used in your equipment
Understanding best practices in PLC programming
How to review new asset automation before purchase.
How to and importance of working towards being less OEM dependant
This course has also qualified under the Federal Program - Workforce Investment Act of 1998 and most state reimbursement programs. So your company could possibly get reimbursed some or all of the training fees if they chose to pursue that. We are also registered in the Federal CCR database if any Federal, State or Local government employees are interested in this PLC training.
All of our training is Hands-on with the actual equipment we provide, but we use power points as a guide and for handouts.
Please click the
Free online Industrial Training Skills Assessment Tool
to see if you or your maintenance personnel need this training. Take the series of PLC Assessments provided there. You may be surprised, as the knowledge we deliver is not always in textbooks or manuals. Our On-Site Training fees are based on the same cost-effective, value-added principles and are the lowest in the industry.
Customer comments
...
One of
NOAA.gov's Chief Engineers
, Sabrina Taraboletti wrote a good full-page review of this course to their Training Director. Too large to place on this web page, but upon request, we would be happy to share the full review with you. Below are some valuable insights from her review of the class...
"
...Don uses the RXLogix 500 series because it is easier to understand and troubleshoot for people who are beginners. You need to understand the basics of the system before you can move on to understanding the more complicated features of the RXLogix 5000 System. ...Analogy; you have to learn how to run Windows 7 PC edition before you tackle Windows 7 Server edition. ... My 3rd assistant engineer had done some PLC work at school and on her cadet midshipman vessels. She also felt this was an excellent course and a good starting place for those, like her, who do have a little experience with PLC's. ... I am not sure about the other FSV's, but the Shimada has a Toughbook PC with RSLogix 5000 loaded on it. I brought that with me to the class. I would show up early, and Don would work with me in understanding the differences (and similarities) between the 500 and 5000 series machines. This was a great help and I came back with a better working knowledge of that computer and how to use it. Upon completion of the class, one receives a certificate of accomplishment, a USB Flash Drive with a ton of information on it, and an Allen Bradley Micrologix miniature PLC connected to switches and lights that you can continue to practice programming with at home. This thing is not a cheap toy, and I really feel this sets the BIN folks out ahead of the others. ... In conclusion I think this would be an excellent course for all engineers, EET's, and ET's in the Fleet, and not just for those who work on FSV's. As we continue to bring new ships into NOAA, they will undoubtedly be controlled with these devices. Everyone should have at least a basic understanding of how these things work. Don is more than willing to do on-site training, and I believe this would be an excellent course to hold during winter in port at the MOC locations."
Elaine Vavra (
Southeast Community College Instructor
) "
One of the best hands-on classes I have attended. The hands-on portion really added to my limited experience in PLCs.
"
Jim (Maintenance Manager) "
This training is not like the vendor training we have received before where they try to sell you their hardware. We were getting hands-on training after the first hour and advice that only an experienced end-user would offer. A great supplement to our tech school training. Thanks
"
Timothy Wilson (
Technician at Corning Life Sciences
) "
Don gave a very knowledgeable course on RS Logix and was very attentive about the standards and the class involvement was great. Don worked hard to make sure that everyone was keeping up and understood the work. i would recommend Don to anyone for the technical knowledge and the patience to get the job done.
"
Price of the Service
Price on request
Characteristics of the Service
Type

RSLogix 5000

Model

Allen Bradley

Brand

Rockwell
Category of the Service
I want to get more details about the product
Company catalogues - Business Industrial Network

Automation Training Software - Unlimited user, site licenses. (English)
6 pages

Total Productive Maintenance (TPM) Training PowerPoint (English)
6 pages