Moolmang EZ filter system quick change Filter system UF 3 stage filter system water purifier for under sink
- Product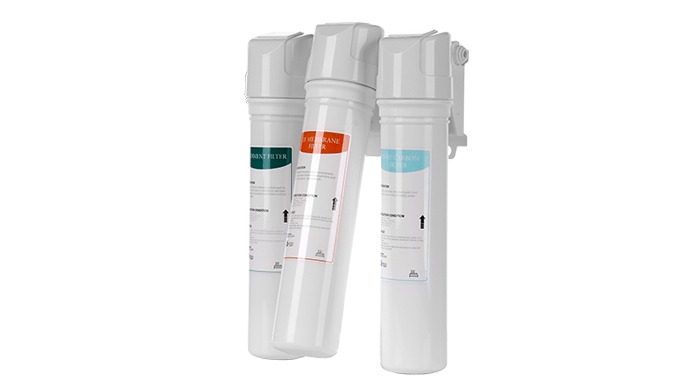 Moolmang EZ Filter System(UWF-EZ3UF) can help you and your family avoid a number of frustrating issues with your drinking water, including bad taste, unpleasant appearance, and potentially harmful contaminants.

Moolmang EZ Filter System(UWF-EZ3UF) is top quality of inline filter system that makes drinking water safer and healthier. With
Description of the Product
Moolmang EZ Filter System(UWF-EZ3UF) can help you and your family avoid a number of frustrating issues with your drinking water, including bad taste, unpleasant appearance, and potentially harmful contaminants.
Moolmang EZ Filter System(UWF-EZ3UF) is top quality of inline filter system that makes drinking water safer and healthier. With improved taste and greater clarity, you will find better flavor in foods and beverage when they are made with filtered water.
This system is also advanced either in filtration performance and convenience of use. Moreover, it is designed to ensure easy (1/4" twist to open & close) and non-slip replacement!
[Features & Benefits]
Easy & Sanitary Filter Replacement
1/4" Twist Open & Close Filter Cartridge (Quick Change System)
Easy to Install
Fresh & Helathy Mineral Water
Space Saving
[3 Stage UF Filter System]
1st Stage: Sediment Filter (Exchange Period: 6 months)
Multiplicate Sediment Filter with combined GAC removes impurities such as soil, sand, rust and reduces chlorine, odors.
2nd Stage: UF Filter (Exchange Period: 12 months)
Ultrafiltration (UF) is a separation process using membranes with pore sizes in the range of 0.1 to 0.001 micron. Typically, UF membranes will remove high molecular-weight substances, colloidal materials, organic and inorganic polymeric molecules allowing only fresh water and dissolved minerals to pass through.
3rd Stage: Post Carbon Filter (Exchange Period: 6 months)
Post Carbon filter thereby removes many volatile organic chemicals, including bad tastes & odors, residual chlorine, harmful pesticides & herbicides, pigment and hundreds of other man-made chemicals found in tap water because carbon is a substance best known and most widely used to absorb impurities and improve water tastes.
Price of the Product
Price not indicated
Technical Details
Model No.: UWF-EZ3UF
Size: 250(W) x 95(D) x 310 (H) mm
Weight: 1.7 Kg
Packing: Water Purifier 1 pc, Connector, Faucet, Tube 3 m, User's Manual / Box