Meat swon by farmer: Farmkatsu
- Product
Chungcheongbuk-do -
South Korea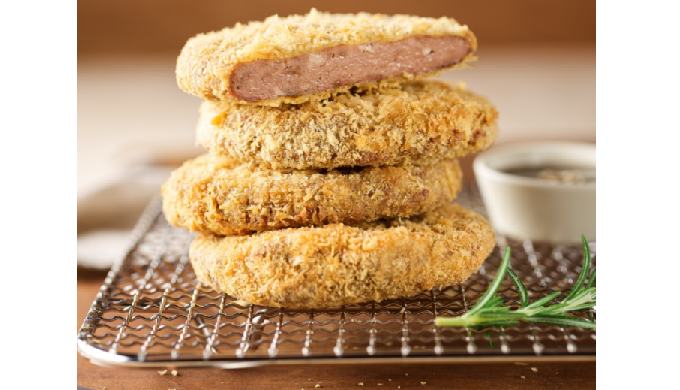 Fried vegetable meat without pork. Vegetable meat is fried with fresh bread crumbs. Consumers who do not enjoy vegetable meat can also enjoy it. The essential amino acid, vitamin A, vitamin B, vitamin C and Fe, contain various nutrients.

# Technical Detail / Specifications
Weight : 370 g (140 g * 2 pieces, Sauce 45g * 2 pieces) <...
Description of the Product
Fried vegetable meat without pork. Vegetable meat is fried with fresh bread crumbs. Consumers who do not enjoy vegetable meat can also enjoy it. The essential amino acid, vitamin A, vitamin B, vitamin C and Fe, contain various nutrients.

# Technical Detail / Specifications
Weight : 370 g (140 g * 2 pieces, Sauce 45g * 2 pieces)
Food Type : Soybean processing
Storage Method : Frozen storage (-18℃)
Raw Material and Content:
purified water, Bread crumbs[wheat flour(Wheat : Made in American, Australian, Canadian), Yeast, Shortening(vegetable oil: Palm oil / Made in Malaysia, Processing Maintenance), recrystallized salt,soybean flour],
King Oyster Mushroom(Domestic) 11.36%, Sunflower oil[Sunflower oil100%(Made in Spain)], Soybean processing1(Made in Taiwan)(Detach head protein67% ,Wheat starch,
Milgluten, Tight fiber, Soybean oil), Soybean processing2(Detach head protein, Skimmed soybeans, Cornstarch, gluten, Cocoa powder), Grain Processing(wheat flour,
Active Gluten), glair, Detach head protein, Potato Flakes, Exclusive Mix, brewed soy sauce, Garlic, Organic sugar, Vegetarian Seasoning, Mihyang, carrot powder(Domestic)
Kakao Pigment, Broccoli powder(Domestic), Chad beef flared bar, Citric acid, Red Pigment of Hongguk [Soybean, Wheat,egg Containing]
Price of the Product
Price not indicated
Category of the Product
I want to get more details about the product
Company catalogues - SY SOLUTION Co., Ltd