Helmo
- Product
FAVERGES-SEYTHENEX -
France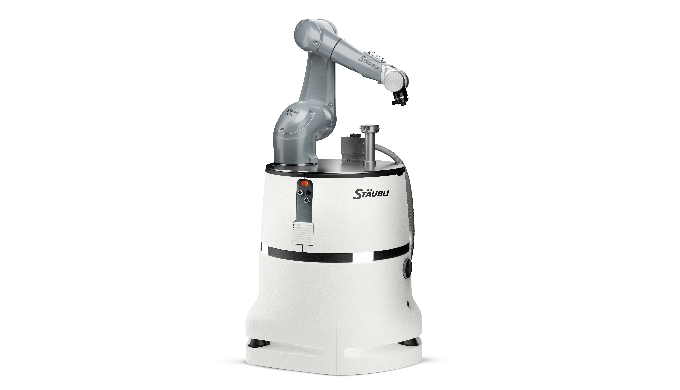 Thanks to the deep expertise in industrial mobilityof our sister company Stäubli WFT, we have developed a unique design of high-performance mobile robot systemsthat work fully autonomously, with the ability to navigate a diverse array of working environments, gather their own m
Description of the Product
Thanks to the deep expertise in
industrial mobility
of our sister company
Stäubli WFT
, we have developed a unique design of high-performance
mobile robot systems
that work fully
autonomously
, with the ability to navigate a diverse array of working environments, gather their own materials and then carry out the work.
HelMo represents the next level of Man-Robot Collaboration
, whereby robots mix with human beings and work together with them or handle monotonous tasks on their own.
MAIN FEATURES AND BENEFITS
Flexible motion in the factory
High performance dynamics: Speed, rigidity and precision combined with safety - the new TX2 robot range with its CS9 controller is the key element for the HelMo system.
Autonomous driving: The mobile robot system drives and navigates autonomously through its work environment. With its robust and spring-loaded drive unit, operation in almost every industrial sector is possible. No modifications of given floor conditions are needed.
Safety first: A TX2 robot with CS9 controller, 3 laser scanners, safe PLC and a tactile enclosure create a comprehensive safety package around the mobile robot system. Optionally a robot safe skin for MRC applications is available.
Intuitive mapping: An innovative and intuitive control concept enables a fast mapping of HelMo's work surroundings. Controlled by a mobile device an accurate map is created based on precise laser scanner data within a short time.
HelMo add-ons: For a flexible use of the HelMo system at different workstations HelMo is additionally equipped with components like automatic multi couplings, tool changing system and a tool station.
TECHNICAL SPECIFICATIONS
Robot Arm : TX2-90/ TX2-90L/ TX2-90XL

Load capacity: 7 kg to 14 kg
Reach (between axis 1 and 6): 1000 mm to 1450 mm
Repeatability - ISO 9283: ±0,03 mm to ±0,04 mm
For more information see our website.
Price of the Product
Price not indicated
Characteristics of the Product
Type

articulated robot, collaborative

Model

Mobile robot

Dimension

890 x 1120 x 1000 mm (without robot arm)

Certification

ISO 9283
Category of the Product
I want to get more details about the product
Company catalogues - STAUBLI FAVERGES

TS2 SCARA robot range (English)
7 pages

TX2touch robot range (English)
5 pages

TX2 robot range (English)
7 pages