ByPath – Business Sales Intelligence
- Product
Forest Row -
United Kingdom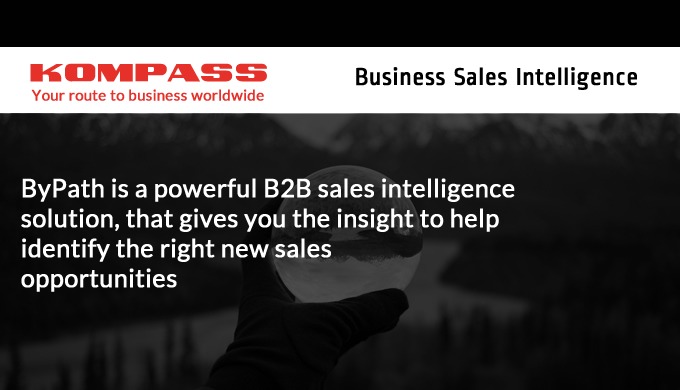 Kompass Business Sales Intelligence helps you connect with business leaders using ByPath, our next generation B2B data solution, which provides smart analysis of Big Data gathered from the web and social networks. By delivering relevant insight and alerts it gives sales teams both meaningful and critical informati
Description of the Product
Kompass Business Sales Intelligence helps you connect with business leaders using ByPath, our next generation B2B data solution, which provides smart analysis of Big Data gathered from the web and social networks. By delivering relevant insight and alerts it gives sales teams both meaningful and critical information to help grow their business.

Win new deals - As a new prospect channel, ByPath provides you with relevant and targeted alerts. Every lead generated shows you who to contact, when to contact them and how to do so successfully.

Effective prospecting - Contact prospects from an informed perspective by viewing up-to-date company organisation charts and identifying the key decision-makers. Find new prospects through the intelligent connections that ByPath makes within and beyond your business network.

Closing deals - The PowerMap shows you the potential risks facing your prospects and what can influence them. This can help you to develop a more successful sales approach to win new deals. PowerMaps are also an effective tool in helping you to manage multiple decision-makers.
Price of the Product
Price not indicated
Technical Details
Key ByPath Benefits

Interactive and real-time Big Data analysis with access to:

- Over 100 million contacts
- Over 15 million emails
- Over 33 million companies
- Over 200,000 web and social media sources
- Self-learning system that creates relevant alerts
- View the connections between key individuals beyond your network
- Identify relationships competitors have with your customers & prospects
- Build your social network connections
- Connect and import data into your CRM
- Mobile application

Contact us to find out more about ByPath or call us on 0800 0185 882
I want to get more details about the product
Company catalogues - Kompass UK Ltd