AUTOMATIC LABELLERS LS-4000 SERIES
- Product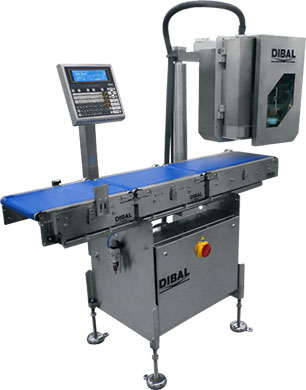 Automatic equipment with dynamic weigh for labelling of fix or variable weight and price.
Dibal LS-4000 automatic weigh-price labeller allows the labelling of articles with fix or variable weight and price information, without stopping the production line due to dynamic weighing. For top, bottom, side, front, rear or on corner
Description of the Product
Automatic equipment with dynamic weigh for labelling of fix or variable weight and price.
Dibal LS-4000 automatic weigh-price labeller allows the labelling of articles with fix or variable weight and price information, without stopping the production line due to dynamic weighing. For top, bottom, side, front, rear or on corner automatic labelling. It allows up to two simultaneous printheads (top + top or top + bottom).
Price of the Product
Price not indicated
Technical Details
OUTSTANDING FUNCTIONS
Labelling of fix/variable weight/price.
Discrimination by weight checking.
Orders management.
Labelling of totals.
Generic traceability on label.
Adapted to comply with EU Regulation 1169/2011 referring to food information.
Barcodes:

EAN-8, EAN-13, EAN-128, CODE 128, ITF-14, GS1 Datamatrix and GS1 Databar (up to 4 codes per label).
WEIGHING
Weighing type:
Ranges depending on the dimensions of the weighing conveyor:

6 kg / 2 g or 10 kg / 5 g with conveyor of up to L400 x W400 mm.
15 kg / 5 g, 20 kg / 10 g, 30 kg / 10 g, 40 kg / 20 g or 60 kg / 20 g with conveyor of up to L600 x W500 mm.
3 kg / 1 g or other, contact us.
LABELLING SYSTEM
Printing type:

Direct Thermal (DT) or Thermal Transfer (TT).

Printhead:
Resolution:
Label applicator type:

Top labeller: "Air-jet®" (AA) or pneumatic piston.
Bottom labeller: by contact.
Side, front rear or corner (L) labeller: pneumatic piston.

Position of the label applicator:

Top, bottom, side, front, rear or on corner (L) labelling.
LABELS
Dimensions depending on the position of the label applicator and the inches of the printhead:

Top, side, front, rear or on corner label: from W30 x L35 mm, up to W80 x L100 mm (3"). Up to W102 x L150 mm (4").
Bottom label: from W30 x L55 mm, up to W80 x L100 mm (3"). Up to W102 x L150 mm (4").
CONSTRUCTION
Structure:

AISI 304 stainless steel and anodized aluminium.

Belts:

Material and characteristics: Polyurethane, rigid or elastic depending on the equipment range. With FDA approval.

Console:

Material: stainless steel.
"Qwerty" keypad and backlit graphic LCD display.
Optional 15" TFT touch screen.

Height of top labeller regulated from console.
COMMUNICATION TO PC
PC SOFTWARE
RMS: For equipment configuration, production data management and back up (LBS).
DLD: For graphic design of labels.
Integration tools: See section on software
POWER SUPPLY & COMPRESSED AIR
Electrical: 230 V/50 Hz; 115 V/60 Hz.
Air: max. 150 l/min (at 5-8 bar).
POSSIBLE INTEGRATION WITH OTHER EQUIPMENT
Dibal LP-3000 manual weigh-price labeller.
Dibal GS-3000 batch collector (+ LP-3000).
Aligner.
Misaligner.
90º deflector.
Dibal MD-5000 metal detector.
X ray inspection systems.
I want to get more details about the product
Company catalogues - Dibal