360eFONS Toothbrush (2Brush) / GREEN TECHROLL
- Product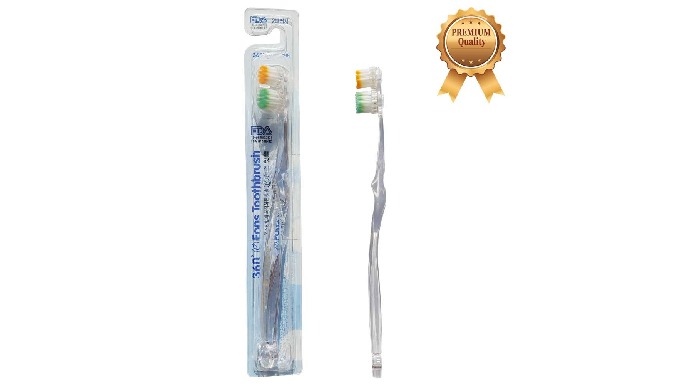 360eFONS Toothbrush - 2Brush (Reusable Toothbrush)

- Non-powered 360 Revolving Piece (Non-electric)
360 functional revolving toothbrushes developed only with advantages of normal toothbrushes and electric toothbrushes.
- 3mm Space between Brushes
This toothbrush has
Description of the Product
360eFONS Toothbrush - 2Brush (Reusable Toothbrush)
- Non-powered 360 Revolving Piece (Non-electric)
360 functional revolving toothbrushes developed only with advantages of normal toothbrushes and electric toothbrushes.
- 3mm Space between Brushes
This toothbrush has an excellent effect on cleaning between irregular teeth and foreign substances that are not attached to this toothbrush. (Excellent Whitening Effect)
- Comfortable Grip Considering a Wrist
Ergonomic design that your wrist is considered.
# Video
https://youtu.be/YLRm3pz2cyo
https://youtu.be/aH3NkYGZwMg
# Brochure
https://drive.google.com/file/d/1035qr5AH4p4tBjIodCOy98L0buzFindN/view?usp=sharing
------------------------------------------------------------------------
# Company Information:
GREEN TECHROLL
Through two round heads with dual bristle - microfibers and ordinary one- rotating, dual-function bristles deeply penetrates between the teeth, helping clean teeth and massaging gums. When using an ordinary toothbrush, you could damage on your teeth by using excessive pressure. However, the eFons Toothbrush is rotated by your hand movement with reasonable pressure, protecting your teeth. If you use this toothbrush on your teeth,
you will have excellent satisfaction even more than you expect.
# Webiste:
https://www.360efons.co.kr/
Characteristics of the Product
Type

For Adult

Model

360eFONS

Dimension

19*1.5*2cm

Label

GREEN TECHROLL

Origin

Republic of Korea
Category of the Product
I want to get more details about the product
Company catalogues - The Disabled Enterprise Business Center

TOVKOREA_Recycling Waste Cutter (English)
4 pages

Sejongmall_Natural Chalk (English)
20 pages

Dawon company_Baby Clothing, Bedding (English)
25 pages