Walkingcook (flameless cooker) / Threestar
- Product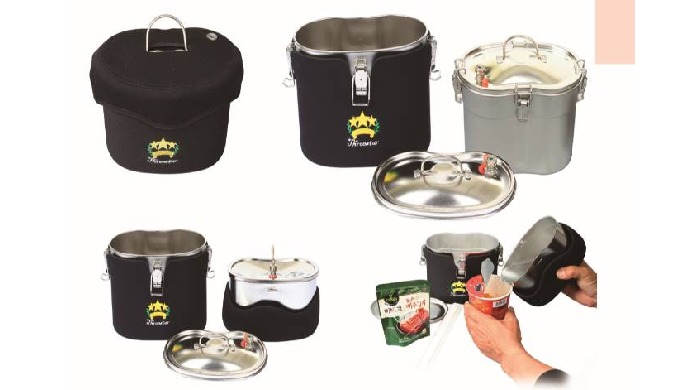 Flameless Walking Cook for outdoor & camping, flameless cooker
(Outdoor & Emergency Cookware, Stainless Food Heating Pack)

Walkingcook is an advanced concept outdoor canteen cookware that can be used to cook without fire anywhere at any time regardless of location. Since hot water can be obtained using the
Description of the Product
Flameless Walking Cook for outdoor & camping, flameless cooker
(Outdoor & Emergency Cookware, Stainless Food Heating Pack)

Walkingcook is an advanced concept outdoor canteen cookware that can be used to cook without fire anywhere at any time regardless of location. Since hot water can be obtained using the heat of water vapor that comes out while catering, coffee/tea/warm water can be obtained in addition to food while catering. In addition, since the water vapor generated during cooking is blocked, catering is possible both in indoor and outdoor environments.

# Strength
1. 100% stainless steel (304-grade)
2. Flameless cooker / Safe Cooking without Fire
3. Eco-Friendly Heating Pack
4. Cook Real Food
5. Powerful Long-Duration Heating Pack
6. No Shooting Steam Or Odors
7. Heat Water At the Same Time As Food

# Company Introduction : Threestar Co., Ltd.
The world is wide and there are many things to do. Threestar Co.,Ltd pays respect to such practical and right words and it's challenging to reach out to the world. We are living in a world increasingly heading toward the era of ideas overflowing with conveniences and values of life Herein, Threestar Co.,Ltd is a company that has been silently taking the road not taken for several years. During the trials of hardship and distress due to products not attempted by others, we were able to boldly present to the world with our numerous products with the support of our customer's unstinted encouragements and buyers' preferences; thus, we would like to bring together the pleasures of today and share them with our customers.
Price of the Product
Price not indicated
Characteristics of the Product
Brand

Walkingcook

Origin

Republic of Korea
Category of the Product
I want to get more details about the product
Company catalogues - The Disabled Enterprise Business Center

TOVKOREA_Recycling Waste Cutter (English)
4 pages

Sejongmall_Natural Chalk (English)
20 pages

Dawon company_Baby Clothing, Bedding (English)
25 pages
Hovo Soap (English)
24 pages