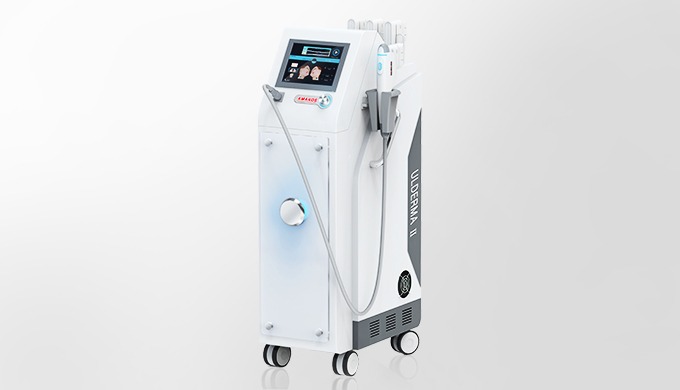 Ulderma II HIFU lifting system uses new advanced techniques of High- intensity focused ultrasound. HIFU makes it possible to provide non-surgical type of cosmetic wrinkle removal instead of the traditional face lifting operation. The device releases highly concentrated focus of ultrasonic energy and delivers it into the deep layers of skin, what ca
Our recommended products and services
Description of the Product
Ulderma II HIFU lifting system uses new advanced techniques of High- intensity focused ultrasound. HIFU makes it possible to provide non-surgical type of cosmetic wrinkle removal instead of the traditional face lifting operation. The device releases highly concentrated focus of ultrasonic energy and delivers it into the deep layers of skin, what cause thermal coagulation to SMAS (Superficial Muscular Aponeurotic System). High level of heat is condensed in the appropriate location for stimulating skin deep dermal tissue and producing more collagen. Skin tightening and rejuvenation are proceeded gradually with the time.
Price of the Product
Price not indicated
Technical Details
1. Uses a non-invasive technique to replace instead of traditional surgical lifting method
2. Tightens loose skin, improves sagging and other aging appearance
3. Uses a special transducers that conduct high intensity focused ultrasound to SMAS layer
4. Generate multiple 65oC-70oC or above of thermal energy to the skin layer specified target. SMAS achieves solidified and cells and removes them.
5. Noninvasive, no need of postoperative time, no need injection, no surgery, no scars.
6. Suit for both female and male and of every age
7. Equipped with a variety of transducers for different skin levels, which conduct the High intensity focused ultrasound to each layer of the skin.
8. Proprietary high-speed transmission technology can be obtained 0.1 to 0.2S.
9. The sole research stability 4 to 10MHZ broadband output technology can work in a layered skin treatment technology.
Category of the Product