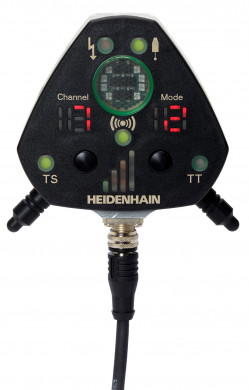 Wireless signal transmission
The signals are transmitted from wireless
touch probes to the SE transmitter/receiver
unit via
• radio or infrared for the TS 460,
• infrared for the TS 444, TS 642, TS 740.
This makes these touch probes ideal for
use on machines with automatic tool
changers.
The following transmitter...
Description of the Product
Wireless signal transmission
The signals are transmitted from wireless
touch probes to the SE transmitter/receiver
unit via
• radio or infrared for the TS 460,
• infrared for the TS 444, TS 642, TS 740.
This makes these touch probes ideal for
use on machines with automatic tool
changers.
The following transmitter/receiver units are
available:
• SE 660 for radio and infrared
transmission; shared SE for TS 460 and
TT 460
• SE 540 only for infrared transmission, for
integration in the spindle head
• SE 642 only for infrared transmission,
shared SE for TS and TT
The SE 660 communicates with the TS 460
and TT 460. The SE 540 and SE 642 can be
used in any combination with the TS 4xx,
TS 642 and TS 740 touch probes.

SE 540 transmitter/receiver unit
The SE 540 transceiver features one
multicolor LED indicator that continuously
displays the condition of the touch probe
(defl ection and battery capacity).
SE 642 transmitter/receiver unit
The SE 642 features several multicolor
LED indicators that, in addition to status
indication, also make comprehensive
diagnostics possible. They display:
• Standby
• Active touch probe
• Defl ection
• Battery capacity
• Quality of infrared transmission
• Disturbances and faults
SE 660 transmitter/receiver unit
Besides LEDs, the SE 660 for radio and
infrared transmission features segment and
bar displays. They provide comprehensive
information on commissioning, operation
and diagnostics:
• Standby
• Active touch probe
• Defl ection
• Battery capacity
• Quality of the radio or infrared signal
• Connection setup
• Channel utilization for radio signal
• Collision and faults
• Channel
• Mode of operation
Price of the Product
Price not indicated
Technical Details
Signal transmission : Infrared / Radio
Voltage supply : 15 V to 30 V DC
Protection EN 60 529 : IP 67
Operating temperature : 10 °C to 40 /60°C

Ask for a quote
Company catalogues - DR. JOHANNES HEIDENHAIN GmbH