The best hotel in Lviv – Swiss Hotel
- Service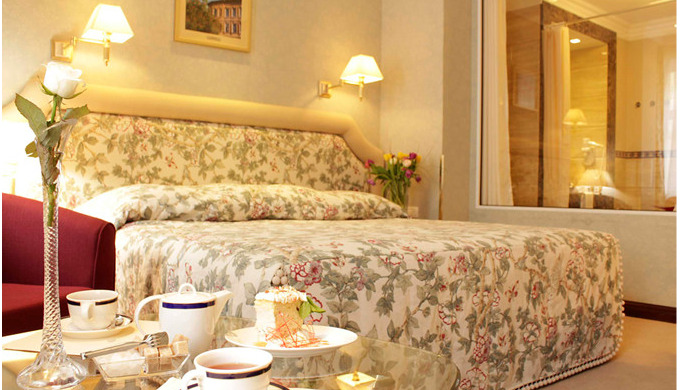 Location, price, service, rooftop restaurant, private parking, steam room, wine cellar - these are the advantages of the
hotel in the center of Lviv
The el
...
Description of the Service
Location, price, service, rooftop restaurant, private parking, steam room, wine cellar - these are the advantages of the
hotel in the center of Lviv
The elite. Terrific. Unique. Comfortable in home-style. The Boutique-hotel.
… Revived in the centre of Lvov as fantastic Phoenix, on a place of the hotel of 19 centuries with the same name, and from the moment of the opening not stopping to surprise, amaze, please.
18 comfortable numbers of VIP-class are presented by categories from the Standard to Presidential Apartments. The interior of each of them is unique, created with love and thoughts on Visitors. Every little thing which creates that special aura of Hotel, was made with special carefulness -
The convenient furniture, upholstered with brocade and silk sofas, pictures, gobelins, exclusive fabrics and wall-paper, porcelain and crystal.
And, certainly, all necessary for comfortable rest in each number!
The hotel also offers wide spectrum of additional services:
A Roman steam room (two hours of visiting are included into cost of numbers of category the Junior suite, Lux and Apartments);
VIP - transfer;
WI-FI Internet;
Guarded parking;
Conference hall for 30 persons with the modern multimedia equipment;
Beauty salon "Mask";
Children's room with perfect toys and services of the nurse.
As perfect continuation and addition for the hotel is served by restaurant "Valentino" (delishious breakfasts included into room-rate).
The kitchen Italian and Ukrainian, also submits to inspiration of master Rafaelle Martelli. The menu tests seasonal and creative changes, and also stores fidelity to the best traditions of the Italian cuisine which has won culinary glory in different corners of the world.
To encontrast taste of amazing dishes, the chief-somele of restaurant suggests visitors to choose any drink from extensive wine map, appealing thus to taste of the person, his possibilities and mood.
The special children's menu is developed for the smallest visitors.
In 2007 the hotel has been recognised by the winner of competition «Person of city», and in 2009году restaurant "Valentino" has won nomination "Lvov-gourmet".
The prestigious arrangement and the modest sizes do hotel attractive to those who searches for magnificent, comfortable accomodation with silent intimate atmosphere and qualitative service.
… Hotel "Swiss" will always open for you the hospitable doors.
We are waiting for you to the address: Ukraine, Lviv, Kniazia Romana str. 20
To make booking by phone call:
+38 (032) 240-37-77 or +38 (032) 261-60-46
On-line booking:
https://swiss-hotel.lviv.ua/en
Please, send your request or wishes on this e-mail:
info@swiss-hotel.lviv.ua
Swiss hotel – home away from home
Price of the Service
Price not indicated
I want to get more details about the product