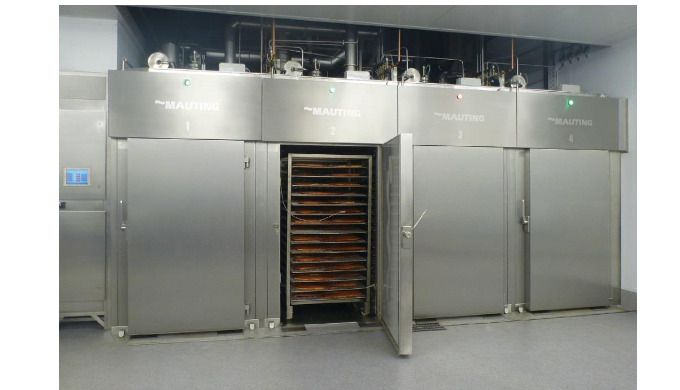 MAUTING s.r.o. - a leading European manufacturer and supplier of equipment for the slaughter and sausage industry.
Our core products are smoke boxes and chambers, smokehouses for sausage products.

Smoking chamber UKMH Horizontal - the chamber is suitable for heat treatment of all types of products lying on grids such as slices of me...
Description of the Product
MAUTING s.r.o. - a leading European manufacturer and supplier of equipment for the slaughter and sausage industry.
Our core products are smoke boxes and chambers, smokehouses for sausage products.

Smoking chamber UKMH Horizontal - the chamber is suitable for heat treatment of all types of products lying on grids such as slices of meat, jerky, fish, cheese, tofu and others. They are equipped with vertical slots to ensure optimal, fully horizontal flow of air that flows along the products on the grates.

Other technical specifications:
The technological process of heat treatment is controlled by a microprocessor control unit, according to the set program
on request they can be supplied with an overhead track or transport system the chamber can be equipped with electric, steam or gas heating it is possible to choose a number of variants that meet the needs of each customer

For more information on the complete range of smoking boxes and chambers, smokehouses for sausage products and our other products, visit our website www.mauting.com
Price of the Product
Price not indicated