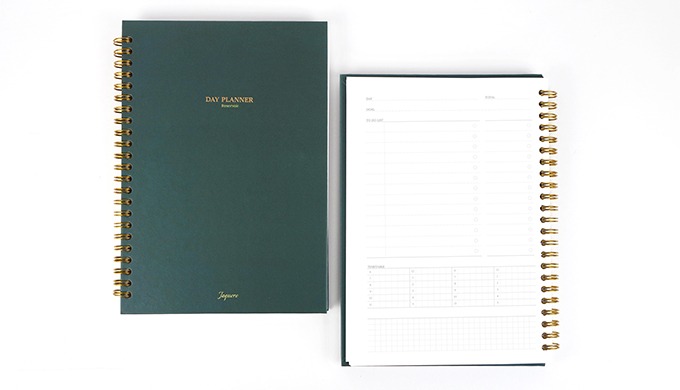 #Product Information
is a '100 days' planner with simple layout of 'To-do List.' The planner is filled with 50 sheets of 140g/m² thick papers which have little transperancy. Also, the premium paper 'Reservoir' is suitable for a fountain pen and dip pen. Each side of the planner can bear hard pen pressure and leaves no marks. One can check 24
Description of the Product
# Product Information
is a '100 days' planner with simple layout of 'To-do List.' The planner is filled with 50 sheets of 140g/m² thick papers which have little transperancy. Also, the premium paper 'Reservoir' is suitable for a fountain pen and dip pen. Each side of the planner can bear hard pen pressure and leaves no marks. One can check 24 hours in a day in 10 minutes units.

# Technical Detail / Specifications
"Reservoir" is a professional note for fountain pen and dip pens users.
140g/㎡ thick Reservoir papers have little transparency even with a flexible dip pen. Thus, the fromt page does not affect the next page.
Price of the Product
Price not indicated
Category of the Product