Profesjonalne wyposażenie każdej cukierni
- Product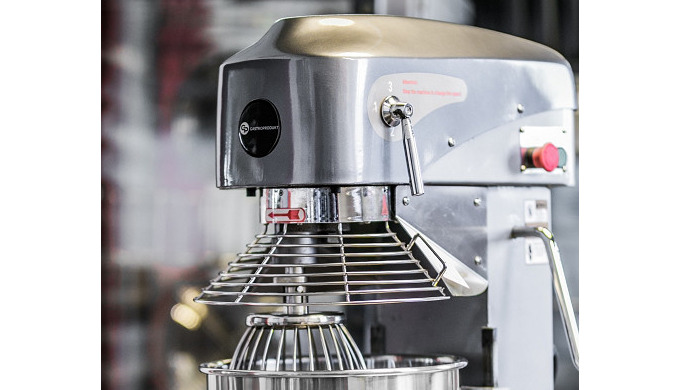 Mikser planetarny to niezastąpione urządzenie w każdej cukierni oraz pizzerii. Jego głównym zadaniem jest wyrabianie ciasta na pizzę lub pyszne ciasta. Co więcej, mikser z łatwością poradzi sobie z przyrządzeniem idealnego pure, a także kremu na ciasto. Jeśli twoja firma poszukuje sprawdzonego sprzętu kuchennego w dobrej cenie, warto przeczytać ten
Description of the Product
Mikser planetarny to niezastąpione urządzenie w każdej cukierni oraz pizzerii. Jego głównym zadaniem jest wyrabianie ciasta na pizzę lub pyszne ciasta. Co więcej, mikser z łatwością poradzi sobie z przyrządzeniem idealnego pure, a także kremu na ciasto. Jeśli twoja firma poszukuje sprawdzonego sprzętu kuchennego w dobrej cenie, warto przeczytać ten artykuł do końca.
Miksery planetarne warte rozważenia
Gdzie warto zakupić mikser planetarny w dobrej cenie?
Miksery planetarne warte rozważenia
W ofercie sklepów, które sprzedają zróżnicowane produkty dla gastronomii, znajdziemy różnorodne
miksery planetarne
. Jednym z takich sklepów jest Gastroprodukt Professional – firma, która oferuje wysokiej klasy urządzenia dla gastronomii. Dwa miksery planetarna warte uwagi w ich ofercie są następujące:
Mikser planetarny cukierniczy o nazwie "Picollo White" - jest to podstawowy mikser, który sprawdzi się w małych cukierniach. Mikser planetarny Picollo White ma pojemność 7 litrów i jest bardzo cichym mikserem, idealnym dla początkujących. Cechami charakterystycznymi miksera są: oddzielne przyciski start i stop oraz uchylna głowica z wyłącznikiem bezpieczeństwa. Co więcej, mikser jest wyposażony w końcówki do mieszania ciast lekkich, ubijania piany oraz majonezu. Cena urządzenia to 1 399zł netto (1 720,77zł brutto).
Mikser planetarny cukierniczy GP. M80 – jest to miesiarka planetarna odpowiednia dla bardziej wymagających klientów, którzy potrzebują sprzętu do pracy ciągłej. Ten mikser został zaprojektowany, aby doskonale się sprawdzać w takich warunkach. Zaletami miksera są: żeliwna obudowa, duża pojemność (aż 80 litrów) oraz końcówki wykonane ze stali nierdzewnej, które doskonale nadają się do ciast lekkich oraz ciężkich. Kolejnymi zaletami miksera są czterobiegowa przekładnia oraz łatwość wymiany nastawek. Mikser planetarny GP. M80 kosztuje 39 999 zł netto – 49 198,77 zł brutto.
Gdzie warto zakupić mikser planetarny w dobrej cenie?
Każdy z opisanych mikserów można zakupić w sklepie internetowym firmy Gastroprodukt, dokładnie w tej sekcji:
https://gastroprodukt.pl/mikser-planetarny
.
Zamówienia można składać bezpośrednio na stronie internetowej lub w siedzibie firmy, która mieści się w Olkuszu na ulicy 20-tu Straconych 5. Sklep stacjonarny wraz z profesjonalnym personelem jest czynny od poniedziałku do piątku od godziny 9 do 17. Na miejscu można zobaczyć wiele modeli mikserów planetarnych oraz inne sprzęty niezastąpione w gastronomii.
Price of the Product
Price not indicated
Category of the Product