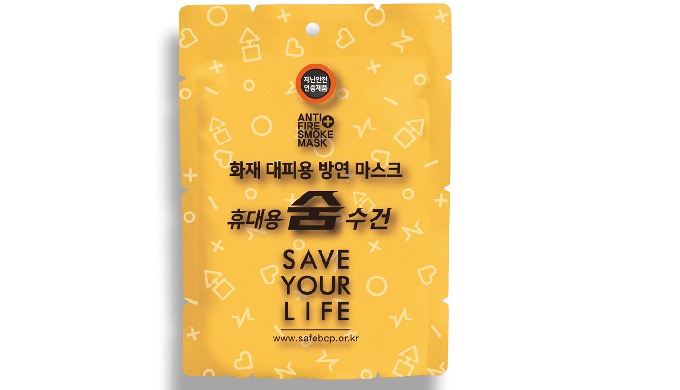 Golden time, when people can evacuate from the scene in the event of a fire, can be seen as an average of seven minutes.
- It is recommended that the respiratory system be blocked with a wet cloth or towel and evacuated in a low position. (How to Evacuate)
- However, water and towels are not often carried around at the same time, an
Description of the Product
Golden time, when people can evacuate from the scene in the event of a fire, can be seen as an average of seven minutes.
- It is recommended that the respiratory system be blocked with a wet cloth or towel and evacuated in a low position. (How to Evacuate)
- However, water and towels are not often carried around at the same time, and it is often very difficult to find them in critical situations.
- Existing gas masks are relatively expensive and have a large volume, so there are limited locations, and sufficient quantity is not secured. Also, it is somewhat difficult for the general public to use due to the complicated usage method.
- Multi-use facilities such as department stores and subways require products that can be worn within 5 seconds and can be seen in large quantities due to their small volume and low price.
Price of the Product
Price on request
Characteristics of the Product
Type

Safety

Model

No.2

Brand

kdsdi
I want to get more details about the product
Company catalogues - Korea Disaster Safety Development Institute