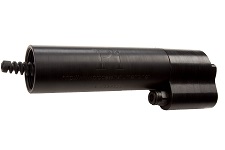 Thissystemisadissolvedoxygenanalyser.Itcanperformthe self-checkatregularintervalsandmakeanadjustmentifnecessary,usuallyevery12months.
Itisalight-emittingopticaldevice,whichisextremelyabrasion-resistant,verystable,withlowcostsofoperationandminimalmaintenance.
Thissystemisavailablewithseveralcontrolpanels,offeringhighperf
...
Description of the Product
This system is a dissolved oxygen analyser. It can perform the self-check atregular intervals and make an adjustment if necessary, usually every 12 months.
It is a light-emitting optical device, which is extremely abrasion-resistant, verystable, with low costs of operation and minimal maintenance.
This system is available with several control panels, offering high performancewith differentiated control, communication and different screens options.
Fields of application:
-Loops of aeration.
-The basins of oxygenation to the control of the aeration system.
Price of the Product
Price not indicated
Technical Details
-No chemicals or moving parts.
-Optional sensor for self-cleaning and self-verification.
-Stable and reliable - excellent control of the process.
-Suitable for all applications of dissolved oxygen.
-Up to 12 months between interviews.
-Up to 12 months between calibrations
Category of the Product
I want to get more details about the product
Company catalogues - HORUS ENVIRONNEMENT