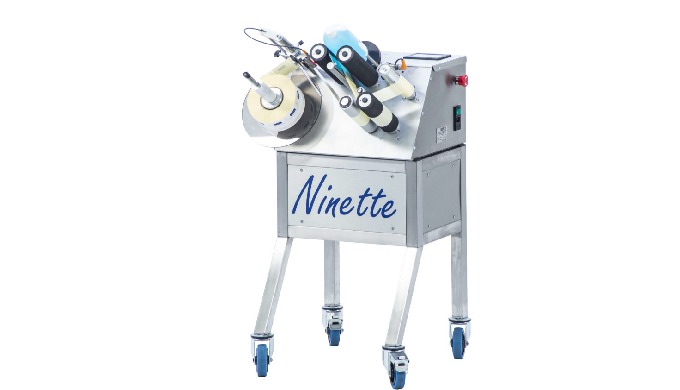 Description of the Product
Designed by CDA, the
Ninette 2
is a semi-automatic labelling machine, which allows the application of two adhesive labels on cylindrical products. Its production capacity can reach 1000 bottles/hour.
This versatile machine labels different product formats and compositions (glass, PET, PVC) without changing the equipment.
Characteristics:
- Labelling rate: Maximum 15 products/minute or 1000 bottles/hour
- Machine control: user-friendly touchscreen
- Labelling : 1 or 2 labels
- Structure: Stainless steel and Aluminium
Ninette 2 is adapted to many business sectors:
viticulture
,
spirits
,
brewery
,
food-processing industry
,
cosmetics
, etc. This semi-automatic machine can be completed with a CDA automatic filler, like the
K-Net Auto
(up to 1200 bottles/hour), or with a CDA semi-automatic filler, like the
K-Net
(up to 600 bottles/hour). Ninette 2 is a great solution for the packaging of small productions.
For the application of only one label, we suggest you the CDA
Ninette 1
(up to 1000 products/hour).
Price of the Product
Price not indicated
Technical Details
Advantages:

- Packages all cylindrical products with 2 adhesive labels
- Ease of use
- Excellent value for money
- No planned obsolescence
- After-sales service