NEW PRODUCT - LAUNDRY STACKING KIT WITH AIRER - SPARE PARTS FOR WASHING MACHINE - CAN ASSIST YOU WITH YOUR LAUNDRY of THEOFILOS KAPPATOS S.A.
Product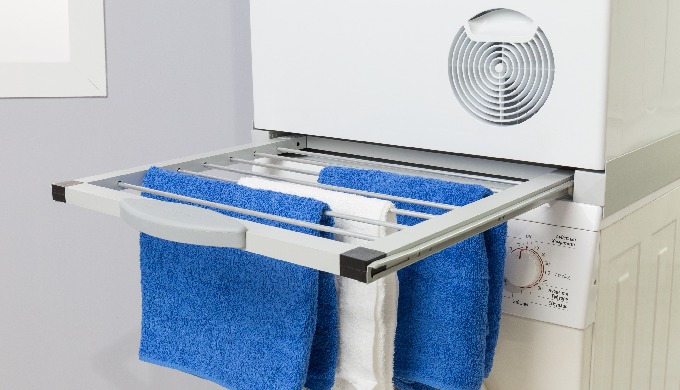 Laundry Stacking Kit with Airer

The stacking kit is especially designed for saving space and positioning safely your dryer on top of your washing machine. The airer can be used as assistance for your laundry.

Roller Kappatos's laundry stacking kit with airer has been designed to save space and to provid...
Description of the Product
Laundry Stacking Kit with Airer

The stacking kit is especially designed for saving space and positioning safely your dryer on top of your washing machine. The airer can be used as assistance for your laundry.

Roller Kappatos's laundry stacking kit with airer has been designed to save space and to provide safety. Now you can place your dryer on top of your washing machine using our laundry stacking kit! The airer will assist you to dry, upload and offload your laundry. For its production we follow the highest European standards. Our stacking kits are certified under the Euro Patent R.C.D. No 6004042.

Stands out because:

• It helps you to save space in your bathroom.
• It holds with stability and safety your appliances while they are operating.
• Its practical airer will assist you to place your laundry.
• It is compatible with 99% of washing machines and dryers.
• It is easy to install
Price of the Product
Price on request
Characteristics of the Product
Type

Accesories

Model

00668

Dimension

60cm (L) X 55cm (D) X 4cm (H)

Composition

Metal

Material

Aluminum

Color

Silver

Brand

Roller

Guarantee

2 years
Technical Details
Characteristics:

• Color: Silver
• It is suitable for washing machines and dryers with 60cm length and 45-70cm depth.
• The airer is waterproof and can lift up to 10 kg!
• Optionally you can use a lashing strap around the washing machine and the dryer.
• Electrostatic painting is long lasting even on extreme environments and harsh use conditions.
• It comes with 2 years warranty
• It is made in Greece, Europe

Dimensions (assembled):

• Length: 60 cm
• Depth: 55 cm
• Height: 4 cm (internally) / 7 cm (externally)
Category of the Product