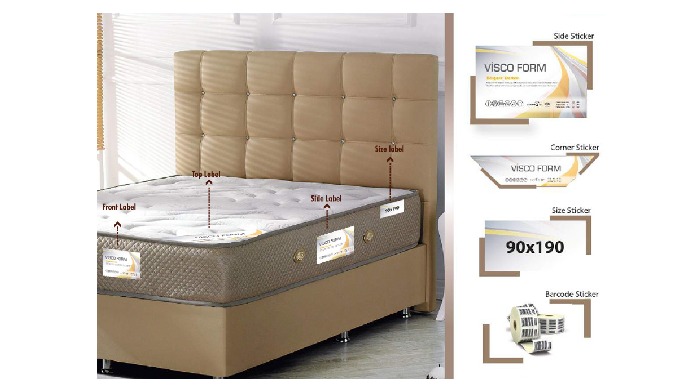 Mattress Label Company is one of the biggest Label & Sticker Manufacturer in Turkey. Mattress Label is doing export more then 40 countries.Berfa Group was founded many years of experience and market knowledge, business partners, without compromising the quality of service principle is to serve customers in global markets as well as domestic mar
Our recommended products and services
Description of the Product
Mattress Label Company is one of the biggest Label & Sticker Manufacturer in Turkey. Mattress Label is doing export more then 40 countries.Berfa Group was founded many years of experience and market knowledge, business partners, without compromising the quality of service principle is to serve customers in global markets as well as domestic markets obtain.Both aims.Our Company customers to provide safe, sustainable and high-quality supply is pleased to serve.
Mattress Label Company is one of the biggest manufacturers For Mattress & Bed industry in Turkey and we have been manufacturing and exporting in many countries for more than a decade. Our wide product range includes Mattress Labels , Bed Labels , Law Labels , Second Hand Labels .We can produce customized models & designs with customer`s special sizes & colours & design requirement. We are trying to provide best label & sticker solution for our valuable customers. Our main targets are the most quick label design graffic, the best quality of label , the fastest delivery time of label and the best price of label.
Berfa Group is one of the biggest Mattress Label and Mattress Sticker Manufacurer & Supplier in all over the world.Also we have many solutions for Mattress industry & Bedding industry.Berfa Grouip is your international reliable solution partner.Berfa Group is active Turkish Exporter and we are working with many well known Mattress & Bedding Companies in all over the world.Please find below here more details about Berfa Group Mattress Labels and Mattress Stickers for Mattress & Bedding industries
Price of the Product
Price on request
Characteristics of the Product
Type

Mattress Label

Model

Customized

Power

Customized

Size

Customized

Dimension

Customized

Weight

Customized

Composition

Customized

Material

Customized

Shape

Customized

Color

Customized

Brand

Berfa

Guarantee

5

Reference

Customized

Norm/Standard

Customized
Technical Details
We can produce your Mattress Labels and Mattress Sitckers , Barcodes, Bedding Labels, Bedding Stickers, Carpet Labels, Carpet Stickers, Corner Mattress Labels, Corner Bed Stickers, Custom Sizes, Digital Offset Printing, Sigital PRinted Mattress Labels, Embossing for Mattress industry, Fold Labels, iron-On Mattress Labels, iRon-On Carpet Labels, Low Minumums, All kinds of Mattress Labels and Mattress Stickers, Paper Labels, Personelized Special Labels, Polyester Mattress Labels, Polypropylene PP Labels, Round Mattress Labels, Satin Acetate Sricker Labels, Satin Fabric Labels, Satin or Non-Satin Polyester Mattress Labels, Self Adhesive Stickers, Strong Glue Mattress and Bedding Stickers, Sewin Fabric Labels, Seing Labels, Sew-On Mattress Labels, Side Mattress Labels, Special Mattress Labels, Strong Power Adhesive Labels, Thermal Hot Melt Labels, Woven Labels.

Berfa Group is the best rigth Mattress Advertisement Solution Address for your Mattress Advertisement ideas, Cart Boards, Label Tags, Mattress Broshures, Mattress Cataloques, Mattress Flipcards, Roll up Banners.
We have many ideas of Ne and Modern Mattress Packing Systems Berfa Group Team is following new mattress packing matterials for you.Especially compressed mattress packing systems, mattress hand bags, mattress corner protectors, plastic bags, roll packing systems.
Mattress Showroom Desinging is most impotant subject for Mattress and Bedding Companies.For your professional Mattress Showroom Desingning we can help to you better way with Modern and innovative ideas.Berfa Group is the best consultant address for Mattress and Bedding industries for Mattress and Bedding Showroom Matterials.We have services of Banners, Counter Cards, Custom & Stock Retail Fixtures, Digital Kiosks, Embroidered Borders, Exhibition Showing Systems, Hang Tags, Headboard Displays, LEd Lighting Systems, Mattress Showing Systems, Pillow Showing Kiosks, Pillow Showing Kiosks, Posters, Retail Enviroment Planning, Signage, Top of Bed Branding, Topper Displays, Window Graphics.
Our services 3D Designing, Artwork Design, Compettive Prices, Branding Works, Build The Brand Name, Content Devolepment, Creative Concept Design, All Designnings, Digital Retails Engineering, Fast Delivery Service, Growing Your Business, High Quality, innovative ideas Fro Mattres and Bedding Brands, Latest Designing Trends, Lighting Desing, New & Unique Mattress LAbel Designing, PRoduct Presantation Service, Quick Graphic Design.

Category of the Product