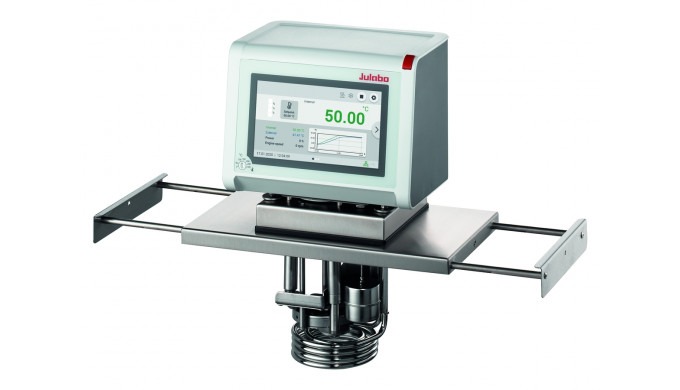 MAGIO bridge mounted circulators combine high temperature performance with maximum flexibility. The adjustable bridge allows the circulators to be used with bath tanks
up to a filling volume of 100 liters.
- Immersion depth of 200 mm (MX-Z) and 150 mm (MS-Z)
- Strong heating capacity of 3 kW (MX-Z) and 2 kW (MS-Z)
- Extendable s...
Description of the Product
MAGIO bridge mounted circulators combine high temperature performance with maximum flexibility. The adjustable bridge allows the circulators to be used with bath tanks
up to a filling volume of 100 liters.
- Immersion depth of 200 mm (MX-Z) and 150 mm (MS-Z)
- Strong heating capacity of 3 kW (MX-Z) and 2 kW (MS-Z)
- Extendable stainless steel bridge from 33 to 68 cm
- Ideal for demanding external applications
- Simple control of complex applications
- Continuously adjustable, extremely powerful pressure / suction pump
- Flow rate 16 ... 31 l / min, pressure 0.24 ... 0.92 bar, suction 0.03 ... 0.4 bar
- Large, high-resolution TFT touch display with multilingual user interface
- Parts being in contact with the medium made of stainless steel
- Integrated programmer
- External Pt100 sensor connection
- USB interface
- RS232 interface
- Ethernet interface
- Analog interfaces (accessories)
- Classification III according to DIN 12876-1
Price of the Product
Price not indicated
Category of the Product
I want to get more details about the product
Company catalogues - JULABO GmbH