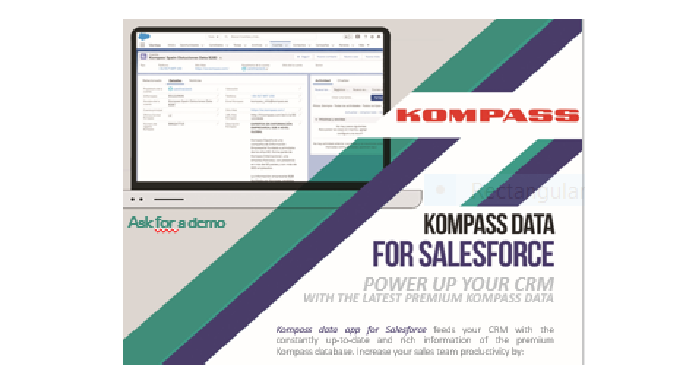 POWER UP YOUR CRM
WITH THE LATEST PREMIUM KOMPASS DATA
Kompass data app for Salesforce feeds your CRM with the constantly up-to-date and rich information of the premium Kompass database. Increase your sales team productivity.
The benefits of the Kompass Data App:
• Securing the creation of new accounts
• Preventing the
Description of the Service
POWER UP YOUR CRM
WITH THE LATEST PREMIUM KOMPASS DATA
Kompass data app for Salesforce feeds your CRM with the constantly up-to-date and rich information of the premium Kompass database. Increase your sales team productivity.
The benefits of the Kompass Data App:
• Securing the creation of new accounts
• Preventing the generation of duplicate records
• Improving the reliability of your data
• Taking advantage of daily information updates
Data constantly updated and enriched.
Price of the Service
Price on request
Characteristics of the Service
I want to get more details about the product
Company catalogues - Kompass North America

Kompass Booster user guide (English)
29 pages

Kompass transportation sector infographics (English)
1 pages