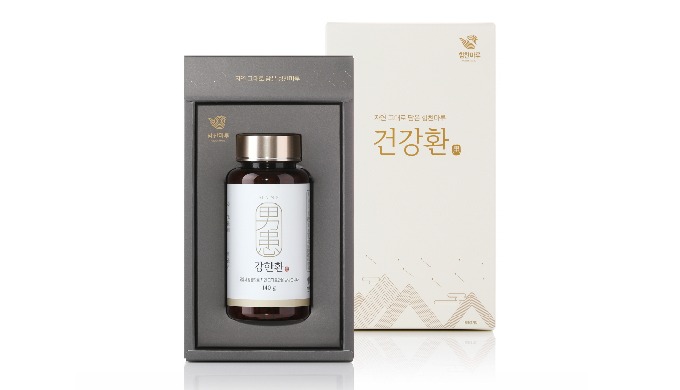 The name of this product is 'Kang hwan'. This product is a type of Healthy pillule in Korea.'Health-hwan' refers to a product made like a pill that is finely ground with a good medicinal ingredient.
It is one of the Health-hwans made under six representative themes that can improve health with food.
It was created after a long period of...
Description of the Product
The name of this product is 'Kang hwan'. This product is a type of Healthy pillule in Korea.'Health-hwan' refers to a product made like a pill that is finely ground with a good medicinal ingredient.
It is one of the Health-hwans made under six representative themes that can improve health with food.
It was created after a long period of research with cooperative researchers from the Oriental Medical Doctor and food research companies.
Most of the raw materials that go into much are from Korea.
It stressed the meaning of the product's name is 'health food for men'.
Made the ingredients good for men into our own special recipe.
It is food for people who lack stamina or need energy supplementation.
Like a dish that tastes completely different with a little content, health food can also be made healthier according to the recipe.
I added good ingredients, and no additives for smell or taste.
This product is food, not medicine, and passed FDA standard.

※Positive effect of Kang hwan※
(This product is not a medicine but a healthy food.)
additive hub : Cornus officinalis , Lespedeza cuneata G.Don, L-Arginine, Maca root, Damiana leaf,
-When the remaining
-When you need refreshment
-Men's confidence needs to be restored
-When tiredness comes
-If you need to improve your health with frequent drinking
-An office worker tired from overtime and overwork.
-Those who suffer from anemia and bedwetting

The one bottle contains 140 grams. The expiration date is 2 years (24 months).
How to eat healthy : 2-3 times a day, You can take 3 to 5 grams at a time after meals. If you put the bottle cap in a single row, it's 3 grams
Characteristics of the Product
Type

Healthy Pills

Brand

Himchanmaru

Certification

ISO22000 / FDA

Origin

Republic of Korea
Category of the Product