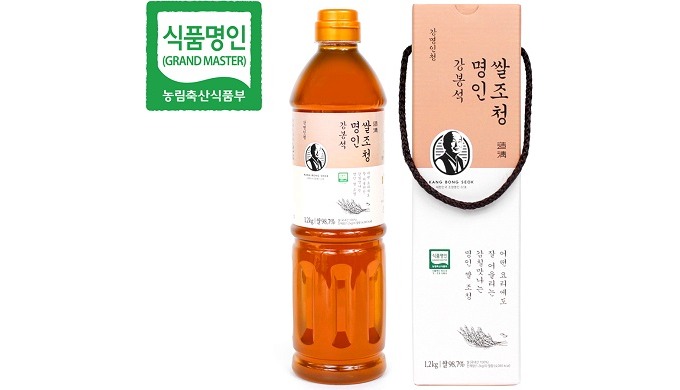 A grain syrup is Korean traditional sweetener made from pure grain. Doorechon's grain syrup is made by boiling finest rice and malt for a long time, and provides sweet flavor compared to other artificial sweeteners that are too sweet. A grain syrup is a good source of energy because it contains a batural mineral and diverse kinds of nutrients. Kang
Description of the Product
A grain syrup is Korean traditional sweetener made from pure grain. Doorechon's grain syrup is made by boiling finest rice and malt for a long time, and provides sweet flavor compared to other artificial sweeteners that are too sweet. A grain syrup is a good source of energy because it contains a batural mineral and diverse kinds of nutrients. Kang-Myung-in-Chung (Master's grain syrup) matches well with all kinds of dishes. We can just eat it like honey, or use it instead of sugar when cooking. It is useful when cooking boiled food, or marinating meat.

The sweet flavor of grain syrup depends on a malt sugar from barley malt. Master Bong-seok Kang keeps studying the best condition that determines the taste of grain syrup with his son Cheol Kang. Also, he is working on a theorization project related to a malt such as the way to measure the enzyme activity to determine the input of malt and the way to measure the gelatinization degree of rice affected by malt.
Category of the Product
I want to get more details about the product
Company catalogues - Doorechon Agricutural Co.,Ltd.