JPS Cosmetics Co., Ltd. / mielle Professional Jewelry Perm line
- Product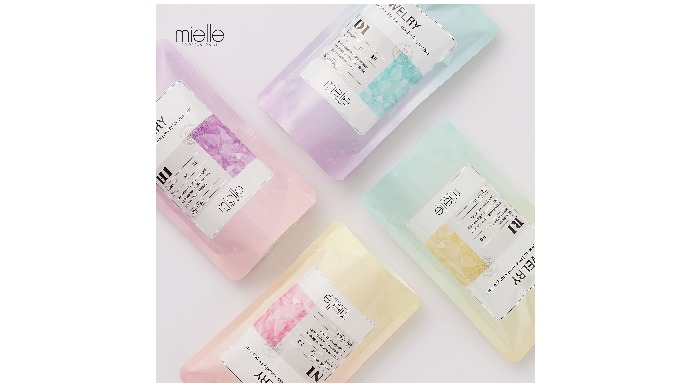 Perm (Lotion1)
1. Jewelry Perm H1(Healthy) 500ml: pH 9.5
2. Jewelry Perm D1(Damaged) 500ml: pH 8.5
3. Jewelry Perm N1(Neutral/Extremely Damaged) 500ml: pH 7.0
4. Jewelry Perm R1(Reboot/Ultra-extremely Damaged) 500ml: pH 5.0

Neutralizer (Lotion2) - neutralizer
5. Jewelry Perm P2(Peroxide) Cream 500ml: Preven
Description of the Product
Perm (Lotion1)
1. Jewelry Perm H1(Healthy) 500ml: pH 9.5
2. Jewelry Perm D1(Damaged) 500ml: pH 8.5
3. Jewelry Perm N1(Neutral/Extremely Damaged) 500ml: pH 7.0
4. Jewelry Perm R1(Reboot/Ultra-extremely Damaged) 500ml: pH 5.0

Neutralizer (Lotion2) - neutralizer
5. Jewelry Perm P2(Peroxide) Cream 500ml: Prevent excess dryness
6. Jewelry Perm P2(Peroxide) Liquid 500ml: Stable and accurate procedure
7. Jewelry Perm B2(S.Bromate) Liquid 500ml: Minimize the hair damage

Multi Perm
8. Jewelry Perm Z 300ml: lotion1-ph 9.0 / lotion2-liquid type

# Technical Detail / Specifications
Lotion 1
Apply a sufficient amount on the hair and proceed heat treatment depending on the type of the hair, if necessary. Check frequently and rinse off once ready.

Lotion 2
Once lotion 1 process is done, shake well before applying on the hair. Apply a sufficient amount and rest for 5~7 minutes, then rinse off thoroughly.
Price of the Product
Price not indicated
Category of the Product