INVAC-4 PRE-VACUUM HOOD
- Product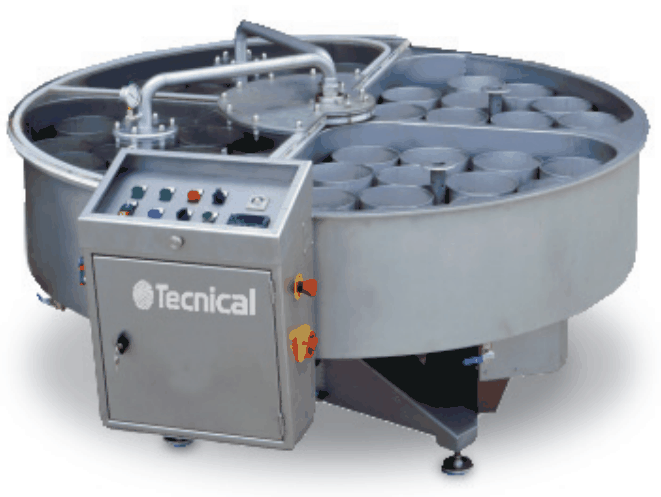 In various processes in the preparation of meat products, it is necessary to perform a pre-vacuum stage to eliminate from the meat mass the occlusions and micro-bubbles generated during bagging or moulding or a non-vacuum massage. The Invac-4 pre-vacuum hood solves this problem, preventing shedding and oxidation of the finished product, improving i
Description of the Product
In various processes in the preparation of meat products, it is necessary to perform a pre-vacuum stage to eliminate from the meat mass the occlusions and micro-bubbles generated during bagging or moulding or a non-vacuum massage. The Invac-4 pre-vacuum hood solves this problem, preventing shedding and oxidation of the finished product, improving its colour and binding during slicing, reducing losses and prolonging its shelf
life. This hood is especially recommended for preparing
'cook-in' or 'zero-loss' products which require intense vacuum treatment. The Invac-4 pre-vacuum hood has four hoods, which enables simultaneous operation: while loading and unloading is carried out in two chambers, the vacuum process is performed in the other two. This configuration means that during each complete cycle there is an intermediate time of atmospheric pressure in each chamber due to the sequential turning pattern, thus achieving the so-called 'lung effect' which gives a certain movement to the pieces inside the mould or bag, facilitating the expulsion of air. Its design saves time and increases production by adapting to all moulds and packagings, regardless of their size, weight or shape. This process is the step prior to the vacuum sealer for 'cook-in' or 'zero-loss' products.


Price of the Product
Price not indicated
I want to get more details about the product
Company catalogues - Tecnical Tecnología Aplicada