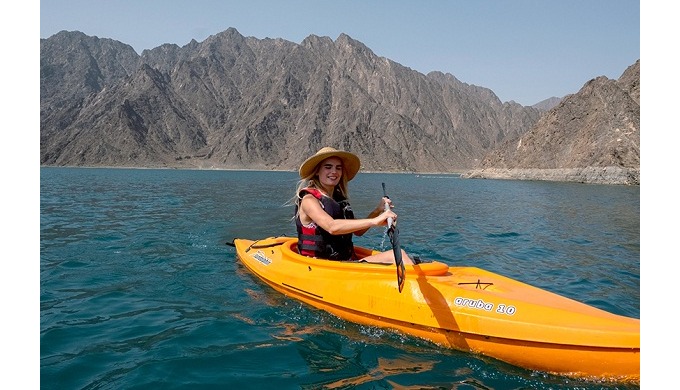 Hatta Kayak is a unique tourist destination in Dubai and UAE. Kayaking on the lake formed by the Hatta water Dam is easily accessible from the Sedr Trailers Resort. Enjoy being on the water with Kayaking packages available to book from reception. Other water activities are also available to enjoy such as pedalo's and water bikes. Please book in adv
Description of the Service
Hatta Kayak is a unique tourist destination in Dubai and UAE. Kayaking on the lake formed by the Hatta water Dam is easily accessible from the Sedr Trailers Resort. Enjoy being on the water with Kayaking packages available to book from reception. Other water activities are also available to enjoy such as pedalo's and water bikes. Please book in advance to avoid any queues. Appropriate shoes and sports clothing are a must for safety during any outdoor activities.
Kayaking is among one of the most popular water-sports activities in Dubai. For those looking to try out kayaking in Dubai, the
Hatta Kayak
, located in the Hatta Dam is one of the most in-demand destinations offering the sport. The Hatta Kayak offers visitors the opportunity to kayak around the vast lake formed by Hatta Dam and its surrounding mountains.
Price and payment
Price not indicated
Credit card
Bank transfer
Letter of Credit
Characteristics of the Service
Type

Hatta Kayak

Origin

United Arab Emirates
Category of the Service