HANGING SCALES CS-2200 SERIES
- Product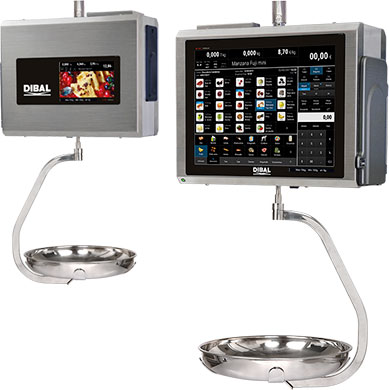 Hanging format PC scales, with touch screen on vendor side and colour TFT display on buyer side, receipt printer, label printer, or receipt+label printer and PC connection. A complete solution for your business with all the functionalities of a PC and a very intuitive use.
The Dibal CS-2200 Series PC hanging scales are a comp
Description of the Product
Hanging format PC scales, with touch screen on vendor side and colour TFT display on buyer side, receipt printer, label printer, or receipt+label printer and PC connection. A complete solution for your business with all the functionalities of a PC and a very intuitive use.
The Dibal CS-2200 Series PC hanging scales are a complete solution for your business as they have a powerful PC architecture, are extremely intuitive (thanks to the touch screen on the vendor's side and the easy menus on Dibal sales and management software) and have a modern appearance (the display on buyer's side, for example, is an attractive communication tool to show promotional images or videos). These retail scales can be connected to other Dibal scales or to a PC to send and receive data and updates.
Price of the Product
Price not indicated
Technical Details
MAIN CHARACTERISTICS
High performance retail PC scale with double colour TFT.
Models with label printer (suitable for receipts) or with 2 printers (for receipts and labels).
Modern, compact and easy to clean design.
Intuitive use.
Configurable and customized vendor screen.
More dynamic and stylish buyer screen as an advertising tool.
High speed and resolution printer.
Compliance with EU Regulation 1169/2011 on the provision of food information to consumers.
FEATURES
Integration with Windows IT applications and ERP systems.
Available functions with SW-1100 software preinstalled:

User screen design application (for assisted and self-service sales). Each user may have access to his/her own sales templates, which may be associated with previously defined access permissions.
Wide range of templates for sales screens, articles database and food images (meat/butcher, fruits/vegetables and fish/shellfish).
Cross-selling: showing the picture of a complementary product on buyer display when selling a product.
Unlimited article keys (in consecutive screens).
All the keys can include texts, icons, pictures, etc.
Possibility of automatic ordering of the keys by different criteria: code, name, best sellers, etc.
Configurable keyboard by PLUs, sections, vendors, QWERTY or ABC keyboard, etc.
Optional display of the receipt or label on the screen.
Easy cancellation of receipt lines / easy reopening of receipt.
Printing of receipts and labels with Windows fonts.
Receipts and labels design.
Invoices and delivery notes design.
Issue of invoices and delivery notes.
Generation of lists and graphs for total sales or broken down (by article, client, vendor, period, etc.) with three output options: on screen, via scale printer or via an external printer.
Stocks, clients and providers management in the scale.
Option to record normal price and offer price for each article.
Price lists associated to each store or client.
Stock and orders by article management.
Data migration.
Backup.

Also available with an open solution for the installation of any of the most popular POS terminal applications on the market.
CAPACITY / ACCURACY
Multirange (3,000 divisions): 6 kg / 2g - 15 kg / 5 g.
Optional:

Monorange (3,000 divisions): 15 kg / 5 g or 30 kg / 10 g.
Multirange (3,000 divisions): 15 kg / 5 g - 30 kg / 10 g.
Monorange (6,000 divisions): 12 kg / 2 g or 30 kg / 5 g.
FORMAT
CONSTRUCTION
Stainless steel casing.
Stainless steel plate.
Access to all non-metrological components without the need to unseal the scale.
DISPLAYS
Vendor: Configurable 15" touch screen TFT (W304.13 x H228.1 mm).
Buyer: 7" or 15" TFT. Allows showing advertising or promotional images even during the selling operation.
PRINTER(S)
Models available with 1 printer for receipts or labels (changing the paper roll and the working mode) or with 2 printers (for receipts and labels).
54 mm thermal printer.
High resolution (8 dots/mm) and speed (100 mm/sec).
Cassette for immediate paper roll change (in label printers).
Optional:

Linerless (in label printers).
Extra external printer for invoices, lists, etc.
RECEIPTS
Unlimited items.
Unlimited programmable formats.
Unlimited logos.
Windows fonts.
Bar codes: EAN-13, EAN-128 and CODE-128.
Name of vendor.
VAT break down.
Unlimited payment modes.
Discounts per line and total.
Offers: 3x2, 2nd unit discount, price per segment, free product, etc.
Loyalty points.
Customers on account.
Stamps.
Unlimited receipts.
LABELS
From W30 x L30 mm to W60 x L190 mm.
Unlimited programmable formats.
Unlimited logos.
Windows fonts.
Bar codes: EAN-13, EAN-128 and CODE-128.
Unlimited information fields.
Unlimited programmable texts.
2 headings per label.
Manual and automatic pre-packing modes.
3 levels of totals.
Printing of "n" identical labels.
Printing with 90º, 180º and 270º rotation.
Packaging date, expiry date, freezing date and extra date (for any application).
Alphanumeric batch number.
Unlimited types of generic traceability (for meat, fish, fruits, vegetables, etc.) and unlimited products. Included in the prevailing European legislation on bovine traceability.
FOOD INFORMATION
Compliance with EU Regulation 1169/2011 on the obligation to provide nutrition information to consumers as of 13 December 2016:

Minimum letter size: 1.2 mm.
Windows fonts.
Effects: bold, underlined, or any effect of a Windows font for each character in the text.
Possibility of using the general text "G" (21 x 64,000) for ingredients to highlight allergens with those effects and fonts.
Programmable allergen table: automatically identifies allergens in the ingredient texts.
For receipts, possibility of indicating in the PLU "name 2" of those that contain allergens "Consult allergens" (or PLU* + "*Contains allergens").
CPU
Processor: Intel Celeron Brasswell.
Memory: 4 GB.
Hard disk: 150 GB SSD.

Optional: 8 GB (can be modified without notice).
COMMUNICATIONS
4 USB (2.0).
2 RS-232 (one of them auto powered, for connection to bar code scanner).
2 Ethernet.
1 audio (I/O).
1 VGA.
1 DVI-D.
Optional:
SECURITY
Access to different protected programming menus via configurable passwords.
CONNECTIVITY WITH OTHER DEVICES
PC.
Receipt of sales data from Dibal 500 Range and D-900 Series scales.
Windows printers.
Bar code scanner.
Queueing system.
Other peripherals: keyboard, mouse, etc.
Point of sale secure cash payment system.
SOFTWARE (SEE SECTION ON SOFTWARE)
SW-1100: touch application for sales and weighing management.
Integration tools: in Windows or Linux to facilitate communication with the Back-Office.
POWER SUPPLY
Mains: 110 up to 230 VDC.
Category of the Product
I want to get more details about the product
Company catalogues - Dibal