Gwangcheon BYUL MAT Seasoned Laver l seaweeds korean
- Product
Hongseong-gun -
South Korea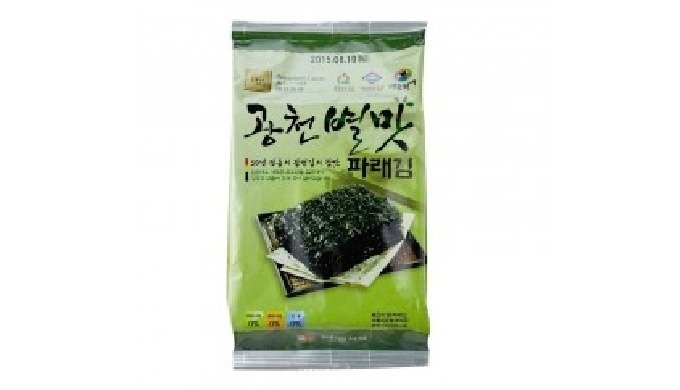 (Cut-type Family Size Sea Lettuce Laver)
One delicious meal for 3~4 persons family done with just 1 bag of laver!!

1.Only strictly selected raw seaweeds as mixed with traditional farm grown seaweed, green seaweed and natural seaweed from the green belt in West Coast of Korea used.

2. Convenience guaranteed with complet
Description of the Product
(Cut-type Family Size Sea Lettuce Laver)
One delicious meal for 3~4 persons family done with just 1 bag of laver!!

1. Only strictly selected raw seaweeds as mixed with traditional farm grown seaweed, green seaweed and natural seaweed from the green belt in West Coast of Korea used.

2. Convenience guaranteed with completely sealed bag containing twice seasoned and twice roasted cut lavers.
Price of the Product
Price not indicated
Technical Details
Net contents
15g x 15pack / box

Specification
310 x 150 x 342

-------------------------------

Net contents
15g x 30pack / box

Specification
509 x 354 x 214
Category of the Product
I want to get more details about the product
Company catalogues - BYUL FOOD CO.,LTD

Catalogue (English)
15 pages

Superior Taste Award : Gwangcheon Sea-Lettuce (English)
5 pages

Superior Taste Award : Sea Crunchy Olive-oil (English)
5 pages