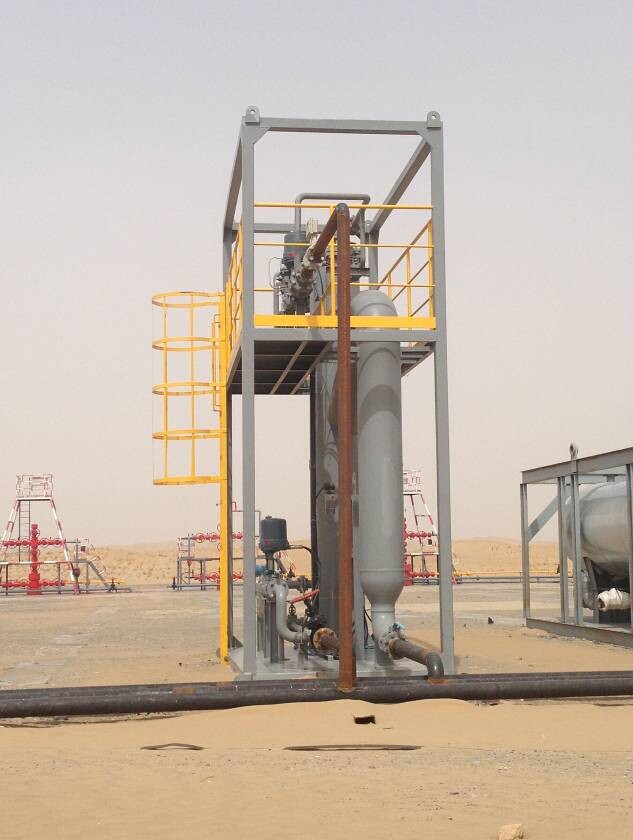 Gas-LiquidCylindricalCycloneSeparatorappliestogas-liquidseparationinallkindsofoccasionsinoilandgasfield.Itisa
gas-liquidseparatorbasedoncyclone,convergenceandmultiphasefluiddynamics.Insomeextremelyabysmalenvironments
likedesertandocean,GLCCisthefirstchoiceformultiphaseflowseparationduetoitssmallsizeandlightweight.

ProductF...
Description of the Product
Gas-Liquid Cylindrical Cyclone Separator applies to gas-liquid separation in all kinds of occasions in oil and gas field. It is a
gas-liquid separator based on cyclone, convergence and multiphase fluid dynamics. In some extremely abysmal environments
like desert and ocean, GLCC is the first choice for multiphase flow separation due to its small size and light weight.

Product Features
1)High separation efficiency:
Gas phase index after separation: 100% removal of liquid droplets greater than 70μm
Liquid phase index after separation: gas content in liquid is less than 1%.
2)Small Size, light weight: 1/4~1/3 of conventional separator under the same working conditions.
3)Mitigate the impact force to the downstream facilities and slow down the slug flow.
4)Vertical vessel with drainage pipeline in the bottom.
5)High Operating Flexibility: the optimal control of the separator can achieve 2 times of the design range.
6)Wide Operating Range: Excessive or fluctuating gas-oil ratio has no effect on separation efficiency.
7)High Safety: small size vessels.
8)Simple Installation and Operation: Skid-mounted—Turnkey project Automatic operation.
9)Conventional instruments, international service.
Advantages
- Precise Design
- Leading Technology
- Cost Saving
- Save a lot of trouble in follow-up services.
Price of the Product
Price not indicated
Technical Details

www.veritas-msi.com