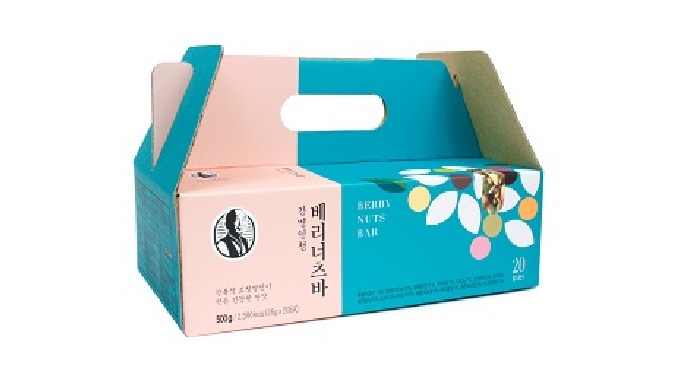 Doorechon's nutritious snack bar provides healthy sweetness with the traditional manufacturing methods of Korean food master Bong-seok Kang (No. 32, the first who was appointed as both taffy and grain syrup master). Our berry & nut bar has sweet and aromatic tastes. The ingredients are 2 kinds of roasted grain, 10 kinds of nuts, 9 kinds of berr
Description of the Product
Doorechon's nutritious snack bar provides healthy sweetness with the traditional manufacturing methods of Korean food master Bong-seok Kang (No. 32, the first who was appointed as both taffy and grain syrup master). Our berry & nut bar has sweet and aromatic tastes. The ingredients are 2 kinds of roasted grain, 10 kinds of nuts, 9 kinds of berries and Doorechon's grain syrup. It is manufactured using a roasting method on 10 brain food nuts, which includes almonds, walnuts, cashew nuts, raisins, sunflower seeds, pumpkin seeds, hazelnuts, sacha inchi, Brazil nuts, and peanuts, along with fruit syrup made from 7 kinds of fruits. Also 9 kinds of berries including strawberry, bokbunja, omija, aronia, blueberry, glodenberry, rasberry, cranberry, raisin are added to improve sweet flavor. Doorechon's grain syrup is made by boiling finest rice and malt for a long time and it is a good source of energy because it contains a natural mineral and diverse kinds of nutrients. Also, our nut and fruit mix bar is not fried in oil, so you can enjoy the soft and sweet taste.

Full of nutrition by using roasting technique. The ingredients are not fried in oil, but cooked with roasting technique. Roasting technique prevents nutrition from getting destroyed, so our Berry & Nut Bar has full of nutrition.
Category of the Product
I want to get more details about the product
Company catalogues - Doorechon Agricutural Co.,Ltd.