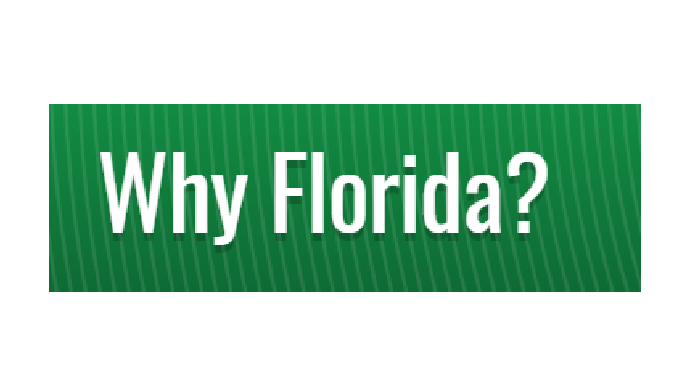 Florida's Business Advantages
Competing in today's global market can present challenges. Your business location shouldn't be one of them. That's why Florida has created a business-friendly environment to enable companies like yours to grow quickly.
Florida understands what it takes to do business and stands ready to welcome you with the
Our recommended products and services
Description of the Service
Florida's Business Advantages
Competing in today's global market can present challenges. Your business location shouldn't be one of them. That's why Florida has created a business-friendly environment to enable companies like yours to grow quickly.
Florida understands what it takes to do business and stands ready to welcome you with the talented workforce, top-ranked infrastructure, global connectivity and quality of life your company needs.
Business Climate
You can have peace-of-mind when you locate your business in Florida. The state's favorable business tax structure, government policies and competitive costs make planning for future growth easy. Florida consistently ranks among the best states for business, thanks to its pro-business state tax policies, competitive cost of doing business and streamlined regulatory environment. The state is proud of its welcoming business climate and competitive advantages.
Infrastructure
Florida has one of the world's most extensive multi-modal transportation systems, featuring international airports, deep-water shipping ports, extensive highway and rail networks and multiple hubs that allow for high-speed data transmission from around the U.S. to Europe, Latin America and Africa.
Trade
Florida is host to regional and hemispheric headquarters of companies from around the U.S. and all over the world, a vibrant international banking center and a diplomatic hub with a substantial
Consular Corps
.
Many international firms base other facilities, such as warehousing, distribution and manufacturing, in Florida to take advantage of its easy access to global markets.
Workforce
Florida's talented and diverse 9.5 million workers can exceed the expectations of even the most demanding employers. Not surprisingly, Florida's talent pipeline is consistently ranked among the best in the nation. Much credit for the excellent skills of the Florida workforce can be given to the state's excellent educational institutions and unique workforce training programs
Quality of Life
Achieve work-life balance in the state that's known for great weather, recreation and culture – and also offers the affordable cost of living that allows you to enjoy it all.
Price of the Service
Price not indicated
Category of the Service