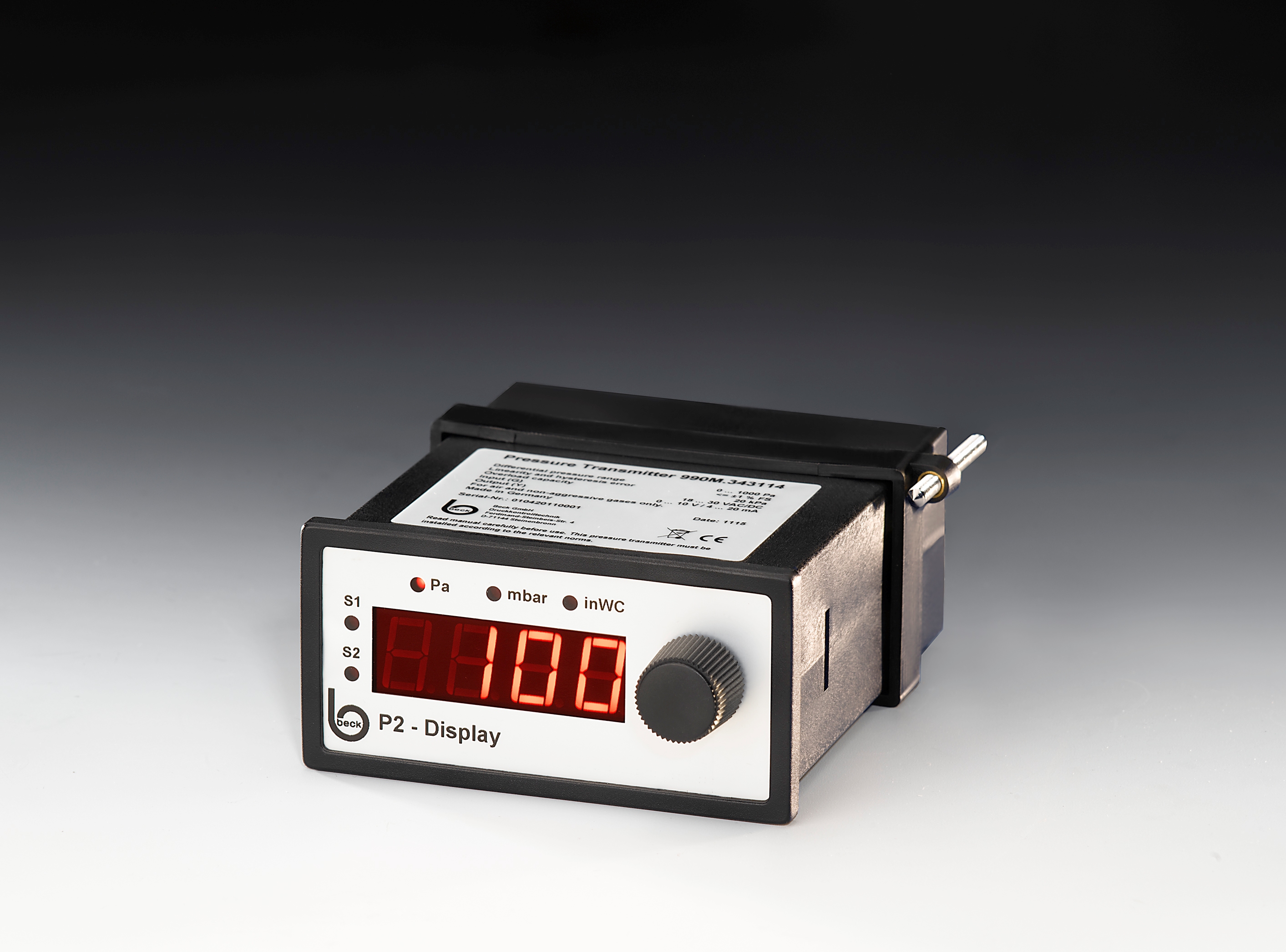 There are two versions of the differential pressure gauge P2 display, a competitively priced 990M version with manual zeroing or a more technically advanced version, the 990A, with automatic zeroing. These pressure gauges have a digital pressure display and dimensions of 143 x 96 x 48 mm, which ensures that they can be very easily fitted in a stand
Description of the Product
There are two versions of the differential pressure gauge P2 display, a competitively priced 990M version with manual zeroing or a more technically advanced version, the 990A, with automatic zeroing. These pressure gauges have a digital pressure display and dimensions of 143 x 96 x 48 mm, which ensures that they can be very easily fitted in a standard, DIN IEC 61554-compliant, control panel cut-out. The operating voltage is 24 VAC/VDC, however, using an optional mains power supply, they can also be operated from the mains.
The pressure gauges are suitable for monitoring air or non-aggressive gases. The three-wire output signal can optionally be set to 0...10 V or 4...20 mA with an ohmic resistance of 20...480 ohms. The maximum current consumption is less than 250 mA. Dependent on the version, the measuring range is between 0...25 Pa and 0...250 kPa, although the smallest measuring range is only available with automatic zeroing. The currently applied pressure can be displayed in three pressure units: Pascal, mbar or WC. The response time of the output signal can be selected between 0.1 and 20 s. All available functions are selected and changed via the central rotary knob on the front panel.
In the 990M version, when the transducer is depressurized (at atmospheric pressure) the output signal in the parameter menu is manually zeroed using the rotary knob. In the 990A version the pressure transducer automatically carries out zeroing at regular short intervals. This means the drift behaviour is further reduced while control and maintenance effort are significantly reduced. Alongside the analogue output signal, the differential pressure gauge is optionally provided with two adjustable relay switching outputs which can be switched AT up to 250 VAC/ 5A. The user can adjust these switching outputs within the measuring range so that connected devices can be activated when a defined pressure level is reached. All electrical connections are located on the rear side of the gauge. Similarly, both of the pressure connectors for 4mm and 6mm tubes are located on the rear side.
Price of the Product
Price not indicated
Category of the Product