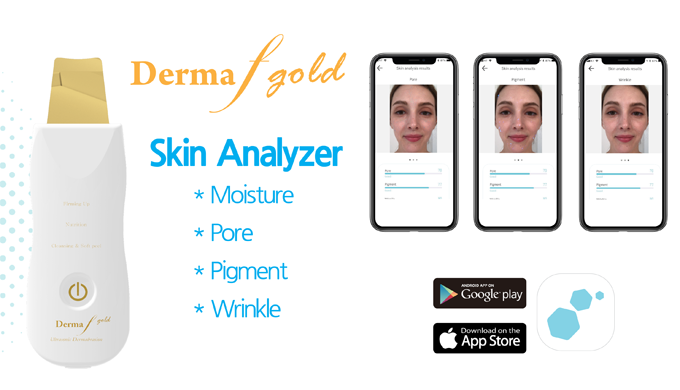 Derma-f gold has three basic functions for skin care.
1.ultrasonic skin scrub-Cleansing & Soft peeling,
2.negative ion massage for freckle care-Nutrition,
3.positive ion massage for wrinkle care-Firming Up.
And also has Skin Analysis functions
1. Moisture level test
2. Image
Description of the Product
Derma-f gold has three basic functions for skin care.
1.ultrasonic skin scrub-Cleansing & Soft peeling,
2.negative ion massage for freckle care-Nutrition,
3.positive ion massage for wrinkle care-Firming Up.
And also has Skin Analysis functions
1. Moisture level test
2. Image test for Pore, Pigment, Wrinkle.
The Device can be connected with the App "Derma Manager" on the smart phone and analyze the skin condition. And the analyzed result can be saved on the phone. So, the skin condition and skin history can be checked continuously, and skin care can also be focused on the skin condition of each time.
It has 24K gold plated spatula.
This Derma-f gold is good for not only home skin care but also aesthetic shop.
To purchase a sample, please click on the below link.
▶
Online Sample Mall
Price of the Product
Price not indicated
Technical Details
Battery: Li-Polymer 250mA/3.7V
Battery charging time:60min
Usage time:25min
Charging rate:5V/300mA over
temperature for storage: -20℃~60℃
Humidity for storage:20% to 90%
Electrical insulation grade: Class II/BF
Transportation atmosphere:700hPa~1060hPa
Ask for a quote
Company catalogues - Hitech Lnh