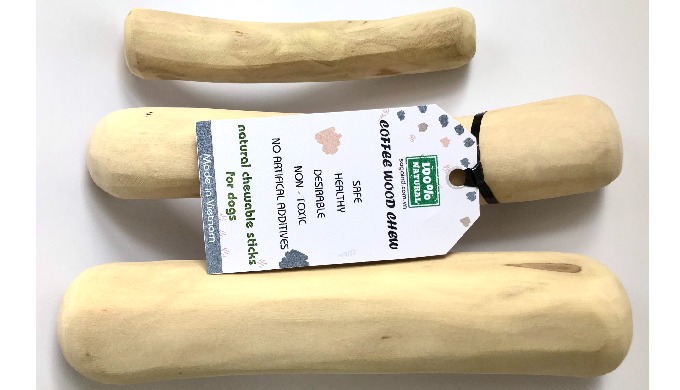 COFFEE WOOD CHEW

Safe chewing stick
Made of branches of the coffee bean plant. Once a plant stops producing coffee beans, the branches are used to produce chew sticks for dogs.
So extra durable!

- Safe:
- Suitable for allergic dogs
- Healthy: ideal alternative to chews that contain fat or sugar
- Natur...
Description of the Product
COFFEE WOOD CHEW

Safe chewing stick
Made of branches of the coffee bean plant. Once a plant stops producing coffee beans, the branches are used to produce chew sticks for dogs.
So extra durable!

- Safe:
- Suitable for allergic dogs
- Healthy: ideal alternative to chews that contain fat or sugar
- Natural product: no artificial additives and free from ingredients of animal origin. Also suitable for dogs with allergies
- Strong and durable: Especially hard wood from the coffee bean plant: ensures a long-lasting chew and keeps your dog occupied
- Without caffeine, calories and artificial additives

Harder than regular wood and splinter proof. Supports the natural cleaning of the teeth. The fibres released during chewing, have a stimulating effect on the dog's intestines. Furthermore, endorphins are released in the brain, resulting in a satisfied feeling.
During the chewing process, fine wood fibres are released by the dog's saliva. These are harmless can be digested without a problem.
When your dog chews on coffee wood, the wood releases small fibres that have a similar effect to dental floss on your dog's teeth.
Chewing on coffeewood is perfectly safe and the fibres that come from the wood can be swallowed and digested without any harm to your dog. The dog chew stick mechanically cleans the teeth and also strengthens the jaw muscles.

Country of origin VIETNAM
Characteristics of the Product
Type

Dog chewable

Model

new

Dimension

3cm x 18cm

Brand

SAGA

Certification

Phyto
Category of the Product