Case palletiser
- Product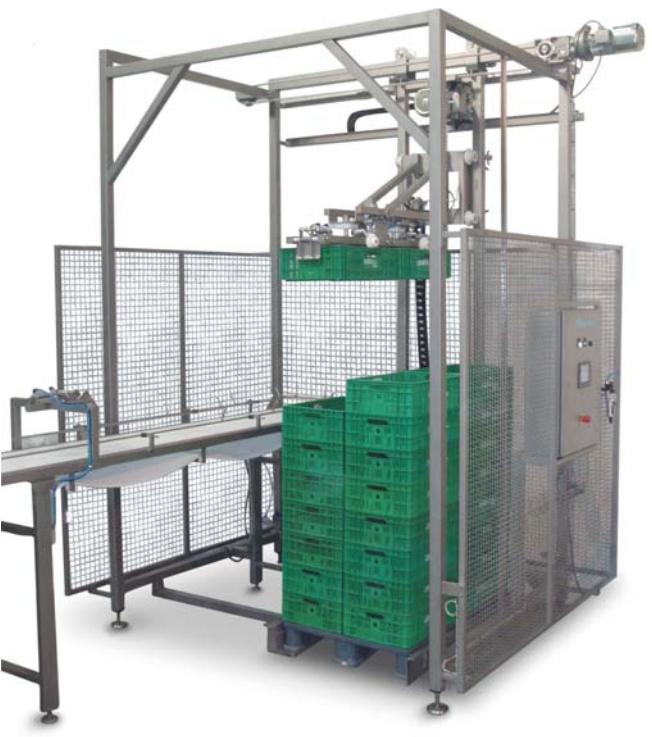 In many intermediate processes in the food productionindustry, it is necessary to accumulate product in boxes and to stack these on pallets, in order to reduce the space occupied and to enable the entire batch to be moved as a compact unit. Manual loading and unloading of pallets is time-consuming andlabour-intensive. This operation can be performe
Description of the Product
In many intermediate processes in the food production industry, it is necessary to accumulate product in boxes and to stack these on pallets, in order to reduce the space occupied and to enable the entire batch to be moved as a compact unit. Manual loading and unloading of pallets is time-consuming and labour-intensive. This operation can be performed more quickly and simply by means of the box palletising or
depalletising head, which has been specially designed for stackable plastic boxes with side openings for gripping purposes.

The pallet must be positioned by means of a forklift truck or pallet truck in the designated area, which must be equipped with guiding devices to centre the pallet and safety protection features. By means of a set of pneumatic pincers fitted on the motor-driven hoisting and transportation arm, the boxes are removed and deposited in the goods-out area, or they are collected from the goods-in area and
deposited on the pallet.
Price of the Product
Price not indicated
I want to get more details about the product
Company catalogues - Tecnical Tecnología Aplicada