CA1550 micromanometer
- Product
ASNIERES-SUR-SEINE -
France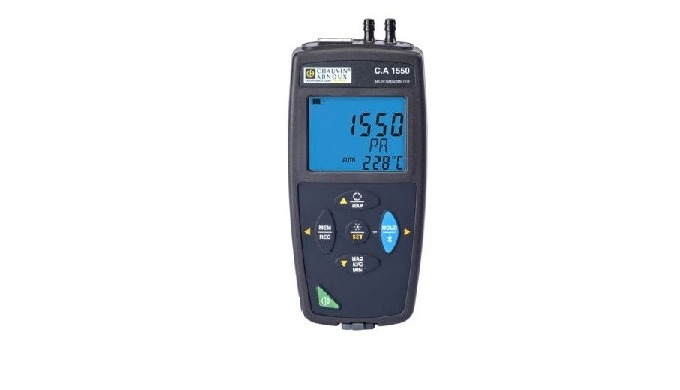 The CA 1550 micromanometer can be used to check the operationof ventilation and air-conditioning installations, etc. It offers the following measurements:
• Differential pressure management to check installations
• Air-speed measurement in ducts with the Pitot tube
• Measurement of air pressure on air extraction
Description of the Product
The CA 1550 micromanometer can be used to check the operation of ventilation and air-conditioning installations, etc. It offers the following measurements:
• Differential pressure management to check installations
• Air-speed measurement in ducts with the Pitot tube
• Measurement of air pressure on air extraction outlets on pressure-reducing orifices
• Measurement on pressure-reducing orifices
• Measurement of filter choking on air handling units
To optimize measurement accuracy, the CA 1550 is equipped with an atmospheric pressure or temperature compensation function.
This compact, ergonomic instrument can be used in various ways: handheld, fixed magnetically to a metal panel, suspended, placed on a flat surface or hooked by means of the Multifix accessory. Thanks to its communication functions, it can be connected via USB to a PC with the Data Logger Transfer software, making it possible to process the data, configure the instrument and generate reports in Word format.
The CA 1550 can also communicate via Bluetooth with an ANDROID smartphone by means of the dedicated application.
Price of the Product
Price not indicated
I want to get more details about the product
Company catalogues - CHAUVIN ARNOUX