BB Spray (Quick detailer water repellent coating)
- Product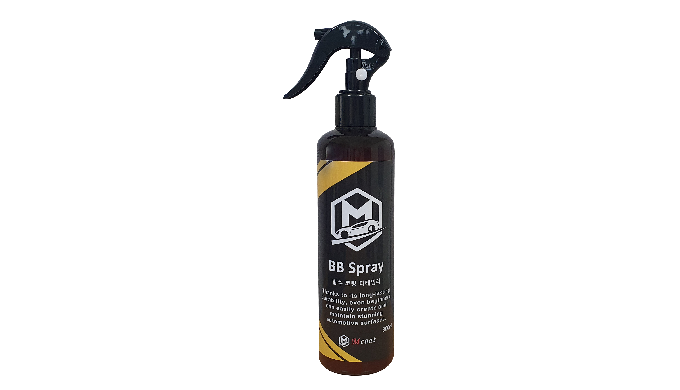 ⦁ BB Spray_Quick detailer (Water repellent) / 100ml

When used on a vehicle, it is a coating that can be used on painted surfaces and can be used even in wet conditions after washing the car, so there is no location limitation. After coating, it forms a strong water-repellent film, which boasts excellent water repellency
Description of the Product
⦁ BB Spray_Quick detailer (Water repellent) / 100ml

When used on a vehicle, it is a coating that can be used on painted surfaces and can be used even in wet conditions after washing the car, so there is no location limitation. After coating, it forms a strong water-repellent film, which boasts excellent water repellency and gloss. The effect lasts for 3 months after use (excellent duration) and prevents damage to the painted surface by UV rays due to UV blocking.
When used as a home care product, it can be used on ceramics such as bathroom tiles, washbasins, bathtubs, and kitchen sinks, and it prevents water stains from forming and keeps the bathroom and kitchen clean at all times. It prevents the adhesion of contaminants (water stains, oil stains, etc.) so that contaminants can be easily removed by simply washing with water.
- 3 months durability
- Easy work even for beginners without skills (Spray it and wipe it with a microfiber towel.)
- 3~5 medium-size cars can be work
- Products directly researched and developed by the company affiliated research institute

# Technical Detail / Specifications
Size : 5.3*5.3*23(cm) / 300ml

# How to use it?
1. Clean the area to be coated.
2. Spray the product on the area to be coated.
3. Wipe gently with a microfiber towel.
Price of the Product
Price on request
Characteristics of the Product
Model

BB Spray

Dimension

5.3*5.3*23(cm) / 300ml

Brand

Mcoat

Origin

Republic of Korea
Category of the Product
I want to get more details about the product
Company catalogues - MFAM Co., Ltd.