Automatic Door Systems
- Product
Schwarzenburg -
Switzerland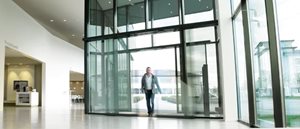 The extensive Gilgen automatic door range is designed to provide additional accessibility convenience, hygiene and style for any building entrance. Our solutions include automatic sliding, curved sliding, folding and swing doors as well as bespoke systems for unusual applications. Our experienced in-house design team works with architects, contract
Description of the Product
The extensive Gilgen automatic door range is designed to provide additional accessibility convenience, hygiene and style for any building entrance. Our solutions include automatic sliding, curved sliding, folding and swing doors as well as bespoke systems for unusual applications. Our experienced in-house design team works with architects, contractors and facilities managers to ensure complete customer satisfaction.

Price of the Product
Price not indicated
Technical Details
All powered pedestrian doors from the Gilgen range are Swiss designed and built to the highest standards. Our doors are CE marked, third party tested and built to meet the requirements of BS EN16005 safety regulations.


Category of the Product
I want to get more details about the product