AlphaO Connector (Dual Wire T type)
- Product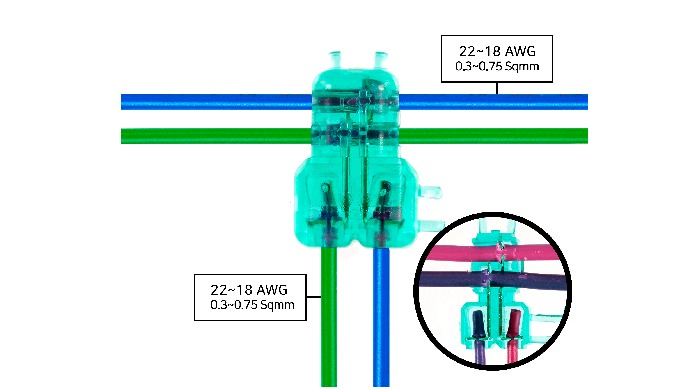 AlphaO's quick splice(non-stripping) electric wire connector is a new kind of wire connecting tool for wire-to-wire connections.
Alphao connector is designed so that when two or more wires need to be connected they can be placed into the holes and no loss of electric power is affected.
There is no stripping, splicing (w
Description of the Product
AlphaO's quick splice(non-stripping) electric wire connector is a new kind of wire connecting tool for wire-to-wire connections.
Alphao connector is designed so that when two or more wires need to be connected they can be placed into the holes and no loss of electric power is affected.
There is no stripping, splicing (wire twisting) or taping of the wires involved. The most basic shape is a small rectangular plastic box, but they have a variety of sizes and designs for different uses and products that range from low to high amps.

# Technical Detail / Specifications
Unlike traditional IDC(Insulation Displacement Connection) method, Alphao's EQ Splicing (EQS) technology (NSEC(Non-Stripping Extended Connection)) offers ease of use and has diverse range of applications including electronics, home appliances, automobiles, lighting, construction, shipbuilding and electro-mechanical industries.
The primary purpose of the technology is to make joining wires together easier and safer than the older method of stripping, twisting and taping wires together. The reduction in time and labor is significant in any area wire-to-wire connection is needed.
As stripping is unnecessary, the worker is less exposed to danger.
Moreover, its easy and convenient method helps you to save time drastically, and the colorful and esthetic design will put perfection in your work.

Price of the Product
Price not indicated
Characteristics of the Product
Type

Dual Wire T type

Brand

AlphaO

Certification

CE, ISO9001/14001, CVC

Origin

Republic of Korea
I want to get more details about the product
Company catalogues - AlphaO Co.,Ltd

Catalogue (English)
1 pages

Company_AlphaO (English)
18 pages