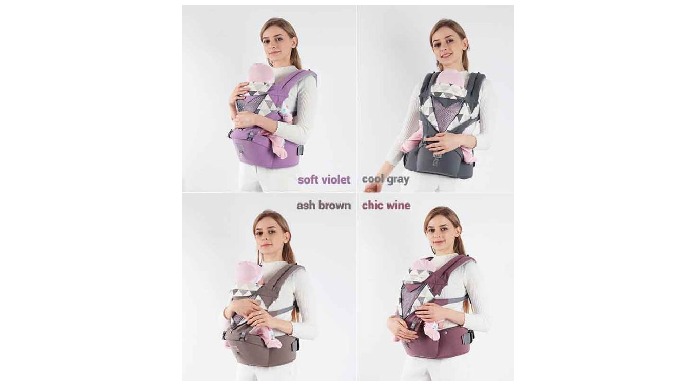 Bamboo Fabric(Reliable material in bamboo pulp/Extracted bamboo fabric)
-Antibacterial: It is highly resistant to bacterial growth caused by perspiration and waste products, and has excellent antibacterial properties.
-Deodorizing Effect: It is excellent in deodorizing compared to general surface.
- Absorbenc
Description of the Product

Bamboo Fabric(Reliable material in bamboo pulp/Extracted bamboo fabric)
- Antibacterial: It is highly resistant to bacterial growth caused by perspiration and waste products, and has excellent antibacterial properties.
- Deodorizing Effect: It is excellent in deodorizing compared to general surface.
- Absorbency, dryness: Because of the bamboo texture, it absorbs and diffuses more than ordinary cotton, so it can maintain comfort.
- Touch: There is no stimulation with soft touch.

Unique Design ALL IN ONE
Baby carrier (newborn ~4 M) perfectly M shaped legs
Hip seat carrier (3M~36M) using with M shaped legs
Hip seat carrier (6M~36M) minimize abdominal pain using cushion
Inner seat(newborn~4)

※ Between special item
It is used as a baby support when using a baby carrier, and when using a hipseat, It can be used as a pad when feeding.

Price of the Product
Price on request
Category of the Product
I want to get more details about the product
Company catalogues - betweenmomandbaby

betweenmomandbaby_Company letter of Introduction & Product Introduction (English)
6 pages