36" Galvanized Box Fan / Nagative Pressure Fan / Axial Fan / Ventilation for Greenhouse, Warehouse, Factory, Farm
- Product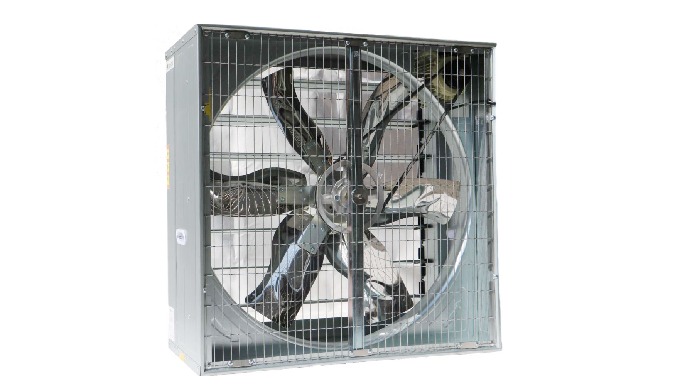 1. Being optimized by fluid simulation design, the high-strength stainless steel propeller provides large air flow to ensure adequate air circulation.
2. High-efficient motor is adopted, IP55 waterproof and dust-proof protection, F class insulation, and energy saving, which helps users to save power cost.
3. Box housing is made of "X" g...
Description of the Product
1. Being optimized by fluid simulation design, the high-strength stainless steel propeller provides large air flow to ensure adequate air circulation.
2. High-efficient motor is adopted, IP55 waterproof and dust-proof protection, F class insulation, and energy saving, which helps users to save power cost.
3. Box housing is made of "X" gauge galvanized sheet-steel with 275g/㎡ zinc layer coating, which enables to withstand the harsh environment.
4. The shutter is automatically open and closed by a centrifugal push-pull device, it closes tightly when stops working, which prevents light transmittance and no cold air intrusion in winter.
5. V belt driven, made of neoprene composite materials and fiberglass cord core, that provides high strength, good wear resistance, high flexibility and high tensile resistance.
6. An ideal choice for ventilation and cooling in animal breeding houses, greenhouses, various warehouses, workshops and more.
7. The whole machine can be washed with high pressure water to keep the breeding environment clean.
8. Working environment temperature: -25 ℃ -50 ℃.
9. Frequency conversion version is optional per demands.
10. Size: 36 inch
11. Warranty: full 3 years, motor 5 years
​11. Air flow(50Hz/60Hz): 18400CMH, Power:0.55KW
Price of the Product
Price not indicated
Characteristics of the Product
Type

Axial Box Fan

Model

QT915B2-077-00

Dimension

100x50x100cm

Brand

Fans-tech

Certification

CE

Label

Fans-tech

Origin

China
I want to get more details about the product
Company catalogues - Guangdong Fans-tech Agro Co., Ltd

MPF Series Fiberglass Cone Fan catalogue (English)
3 pages

SF Series Fiberglass Cone Fan catalogue (English)
2 pages

TF Series Drum fan catalogue (English)
2 pages

DMF Series Man Cooler Fan catalogue (English)
2 pages

ESF Series Fiberglass Cone Fan catalogue (English)
2 pages

Galvanized Box fan catalogue (English)
7 pages