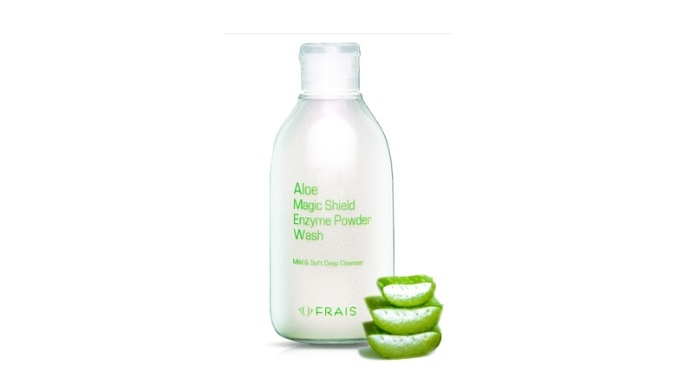 Product : ALOE MAGIC SHIELD ENZYME POWDER WASH
Size : 100g
Skin type : All skin types
Benefits : A gentle daily cleanser that helps remove makeup, impurities
and exfoliate
Effectively removes blackheads and excess oil
Thoroughly and gently cleanses skin
Leaves skin feeling smooth <
Description of the Product
Product : ALOE MAGIC SHIELD ENZYME POWDER WASH
Size : 100g
Skin type : All skin types
Benefits : A gentle daily cleanser that helps remove makeup, impurities
and exfoliate
Effectively removes blackheads and excess oil
Thoroughly and gently cleanses skin
Leaves skin feeling smooth
Maintains moisture after cleansing
Ingredients : Prickly Pear Cactus Extract, Pollen Extract, Citrus Grandis (Grapefruit) Seed Extract, Aloe Vera Leaf juice, Papain Enzyme Powder, Cornstarch

BENEFITS
1. 7 Kinds of Harmful Additive Free
Synthetic Color Additives Free
Benzophenone Free
Synthetic Surfactant Free
6 various Parabens Free: Methylparaben, Propylparaben, Butylparaben, Ethylparaben, Isopropylparaben, Isobutylparaben

2. Plant-Based Natural Ingredients
Prickly Pear Cactus Extract : Deep Hydration Moisturizer
Pollen Extract, Citrus Grandis (Grapefruit) Seed Extract : Protecting the skin from substances and contamination that are harmful to the skin
Aloe Vera Leaf Juice : Soothing, Moisturizing effect, Strengthening skin barriers by high level of Vitamin C & E
Papain Enzyme Powder : Papain is an enzyme with proteolytic properties that breaks down dead skin cells and has an excellent sebum control effect. It removes impurities in pores and keeps the skin clean.
Corn Starch : Vitamins contained in corn help to prevent aging, prevent dryness of the skin, and absorb impurities.

3. Excellent Exfoliation & Removing Impurities
Papain Enzyme reacts to skin temperature(37.5℃)

4. Deep Hydration Moisturizer
Including prickly pear cactus extract, aloe vera leaf juice & collagen

5. Low pH level of Cleanser



Face Cleansing
Use as the first step in your skincare routine.
Wet your face. Take cleansing powder on your palm and lather with water. (Customize level of lather by water and cleansing powder.) Massage with the form and rinse well.

Removal of Blackheads in Pores
Put an appropriate amount of cleansing powder in the bowl for the pack.
Add cleansing powder with lukewarm water to make it lather.
Apply the foam evenly to the face (especially in areas where impurities and blackheads are likely to be located).
After 2-3 minutes, rinse thoroughly with lukewarm water.

Scalp Cleansing
Mix an appropriate amount of cleansing powder into the shampoo, or gently massage the scalp by foaming before using the shampoo.

Body Cleansing
Mix an appropriate amount of cleansing powder with a body cleanser, or apply cleansing powder alone to a shower towel or shower bowl to create bubbles and use it as a substitute for a body cleanser.

Foot Care
Foam cleansing powder and massage it on the callus area of ​​the heel or elbow, or gently massage with the feet soaked in lukewarm water for 5-10 minutes.


Price of the Product
Price on request
Characteristics of the Product
Type

Powder

Brand

FRAIS

Origin

Republic of Korea
Category of the Product
Ask for a quote
Company catalogues - OAH International