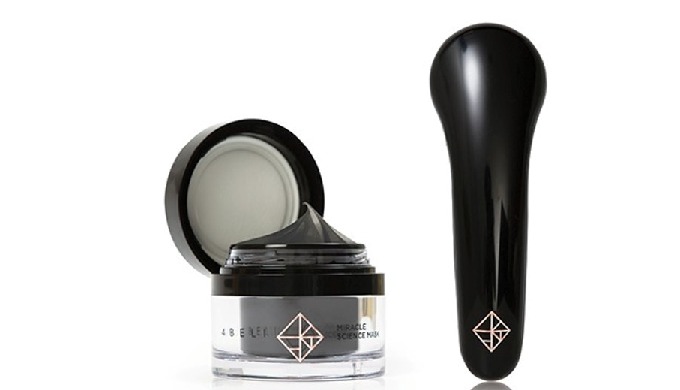 Product : FORBELI MIRACLE SCIENCE MASK PREMIUM
Size : 64g
Texture : Cream
Benefits : Refines pores, Revives radiance, Nourishes and moisturizes
Use : For face
Skin type : All skin types
This set contains: Miracle Science Mask, Magic Effector, Spatula,
Plastic effector cover
Description of the Product
Product : FORBELI MIRACLE SCIENCE MASK PREMIUM
Size : 64g
Texture : Cream
Benefits : Refines pores, Revives radiance, Nourishes and moisturizes
Use : For face
Skin type : All skin types
This set contains: Miracle Science Mask, Magic Effector, Spatula,
Plastic effector cover
How to use :
Step 1. After washing your face, use toner to clean up your skin.
Step 2. Apply mask cream a thin, even layer to face except around the eyes and mouth
Step 3. After 3-5 minutes, cover the head of the Magic effector(Magnetic Removal Tool) with a plastic cover, hover the effector over the skin to lift off the mask. Repeat this until the entire product has been removed.
Step 4. Do not rinse. Pat any residual product into the skin.

BENEFITS
- Effector's powerful magnetic action removes skin waste such as fine dust, yellow dust, sebum leaving only active ingredients on your skin, to leave it well moisturized and clear.
- Amino Acid Complex (patented ingredient) provides excellent moisturizing power and lustrous skin.
- By activating the skin cells of the skin with magnetic fields of more than 3000G, acne and other skin troubles are reduced, improving blood circulation and lymphatic fluid flow to give your skin more elasticity.
It also helps to improve metabolism and nourishes your skin, making it healthy and vibrant.
- The natural mineral created by volcanic action, Jeju volcanic stone, removes waste without irritation, and has an astringent effect to the pores and keratin which will make your skin tone clean and bright.


- Jeju Volcanic Scoria (Jeju Volcanic Ash)
- Argan Kernel Oil
- Amino Acid Complex
- Squalane
- Hydrogenated vegetable oil


- MAGNET THERAPY
Has maximum magnetic flux technology that cannot be compared to other products
While third party products have lower than 2,000G, our product is more effective in magnetic field therapy with a strong magnetism of over 3,000G.


Price of the Product
Price on request
Characteristics of the Product
Type

Cream

Brand

FORBERI

Origin

Republic of Korea
Category of the Product
I want to get more details about the product
Company catalogues - OAH International