Contact - Valco Melton Spain
Pol. Ind. Agustinos C/G D34
31160 Orkoien
Spain
Send a message - Valco Melton Spain
Legal information - Valco Melton Spain
| | |
| --- | --- |
| Nature | Head Office - Factory - Registered Office - Sales Office |
| Year established | 1952 |
| Legal form | Sociedad Limitada |
| Describe your Company and attract Business opportunities (CNAE09) | Fabricación de maquinaria para la industria del plástico y el caucho (2896) |
| CIF | B31262009 |
| VAT no | ESB31262009 |
| No employees | 107 Employees |
| Kompass ID? | ES1035631 |
| Kompass member for | + 7 years |
| Membership | Booster |
Presentation - Valco Melton Spain
Hot Melting

Valco Melton is one of the world's leaders in adhesive dispensing machinery, vision inspection and electronic monitoring systems for quality assurance. From box manufacturing to making baby diapers or even assembling toys, we are specialized in the design and manufacture of quality assurance and dispensing systems that apply, monitor and verify liquids or adhesives to seal, box, package, carton, stick, bind, tape and even add perfumes or lotions within a wide variety of packaging machinery, paper converting, non woven, graphic arts, woodworking, and specialized product assembly categories.
Company catalogues - Valco Melton Spain

NonWovens Brochure (English)
5 pages

Coating Brochure (English)
8 pages
Company's Videos - Valco Melton Spain
General Information - Valco Melton Spain
Brands - Valco Melton Spain
Sr Gonzalo Marco
Manager (European General Manager)
Sr Carlo Zucchi
Site Director/Manager (Director of Sales, Europe)
News - Valco Melton Spain
New product
Valco Melton releases the Alpha nozzle, that guarantees clean and uniform spray patterns for hygiene disposal products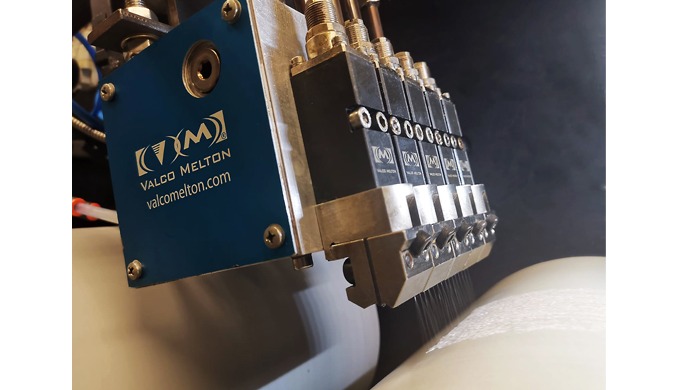 Date: January 4, 2021 11:00 PM
End: January 5, 2021 10:59 PM
Ideal for laminating continuous applications, the Alpha nozzle provides superb adhesive fiber control and reduces adhesive contamination.

Specifically designed for the hygiene disposable products manufacturing, the Alpha nozzle allows a superior finishing and higher bonding strength. Contrary to other alternatives that apply random patterns, the Alpha provides sinusoidal non-crossing pattern, where the fibers do not overlap, allowing a uniform high-quality finishing.

Valco Melton's solution allows complete control of the application. Fibers size and density can be easily adjusted by setting the process air and the working temperature. Furthermore, the Alpha requires less air volume to perform, resulting in a cleaner application.

Each nozzle has up to 5 large adhesive orifices, preventing clogging and reducing maintenance costs.

Alpha nozzle is the perfect choice for all the construction applications in the Sanitary Napkin and Diapers manufacturing process.

Valco Melton is a leading supplier of hot melt and cold glue systems since 1952. Combined with our line of quality assurance systems and electronic controls, Valco Melton guarantees your success on the production floor.


New product
Low-pressure glue pumps for core-winding: maximizing performance while reducing maintenance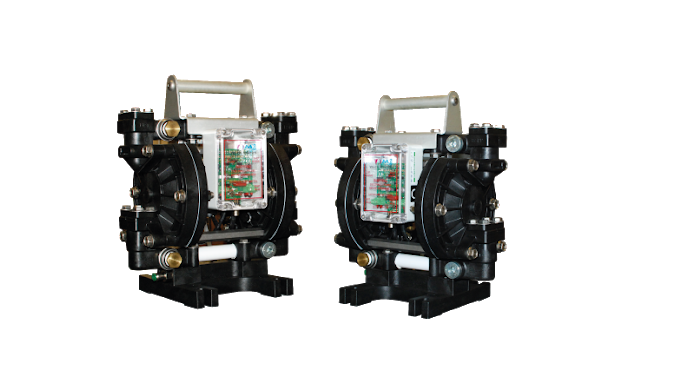 Date: September 8, 2020 10:00 PM
Boasting more than 68 years of experience in the design, manufacture, distribution and support of adhesive dispensing systems for the tissue, pulp, and paper industries, Valco Melton has first-hand knowledge of the most common concerns of core-winders when investing in their glue supply system. Contrary to the general feeling, the output pressures generated by the more expensive
piston pumps are unnecessarily oversized for core winding. Adhesives commonly used in this process contain solids that may damage the pump seals and reduce its lifespan resulting in increased machine downtime and complex maintenance tasks.

Diaphragm pumps however are an excellent alternative to piston pumps offering numerous benefits. Low-pressure pumps work with all kinds of adhesives with minimal wear and required less maintenance resulting in a more cost-effective option.

Valco Melton's DD-1 diaphragm pump features a unique electronic-reversing mechanism which allows the pump shaft to creep slowly and avoids stroke stalling. The adhesive feed rate for a core winder extrusion line is so low that the pump strokes extremely slow. In consequence, our DD-1 pump is the best choice for a continuous core winding process with no unexpected machine stops.

Valco Melton offers the tissue manufacturing industry including core-winding and the others being tail tie, adhesive pick up for tissue machines, ply lamination, and tissue tack & reel (full sheet transfer system for tissue machines).
Location - Valco Melton Spain
Key figures - Valco Melton Spain
Activities - Valco Melton Spain
Producer
Distributor
Service provider
Main activities within the Kompass classification
Other classifications (for some countries)
CNAE (ES 2009) : Fabricación de maquinaria para la industria del plástico y el caucho (2896)
NACE Rev.2 (EU 2008) : Manufacture of plastics and rubber machinery (2896)
ISIC 4 (WORLD) : Manufacture of other special-purpose machinery (2829)
Secondary activities within the Kompass classification