Participate in an event
NJ Conference on Diversity, Equity & Inclusion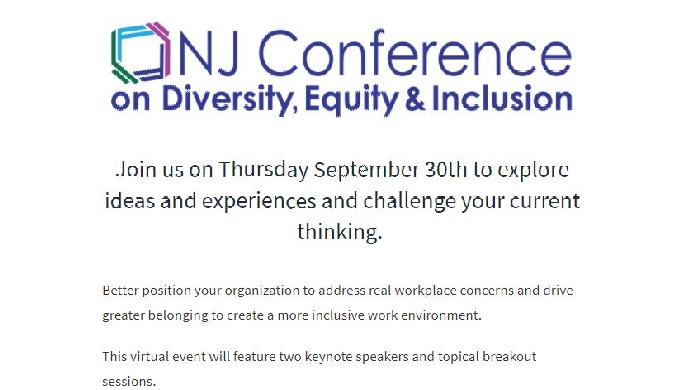 Start date: September 30, 2021 1:00 PM
End date: September 30, 2021 7:30 PM
Location: https://web.princetonmercerchamber.org/events/NJ-Conference-on-Diversity-Equity-Inclusion-1012/details
Join us on Thursday September 30th
to explore ideas and experiences and challenge your current thinking.
Better position your organization to address real workplace concerns and drive greater belonging to create a more inclusive work environment.
This virtual event will feature two keynote speakers and topical breakout sessions.
Meet Our Keynotes:
Jennifer Brown
Consultant and Author of "Inclusion: Diversity, The New Workplace and The Will to Change"
Jennifer Brown
(she/her/hers) is an award-winning entrepreneur, speaker, diversity and inclusion consultant, and author. Her work in talent management, human capital, and intersectional theory has redefined the boundaries of talent potential and company culture. Her bestselling book,
Inclusion: Diversity, The New Workplace and The Will to Change
creates the case for leaders to embrace the opportunity that diversity represents, for their own growth and for the success of their organizations. Jennifer is the host of the popular weekly podcast,
The Will to Change
, which uncovers true stories of diversity and inclusion. The podcast receives thousands of downloads each month and has featured multiple notable guests including NY-Times bestselling author Sally Hogshead; ex-NFL player, advisor, and consultant Wade Davis; Priya Parker, facilitator and author of
The Art of Gathering: How We Meet & Why It Matters
; and theoretical neuroscientist Dr. Vivienne Ming.
As the founder and CEO of Jennifer Brown Consulting, Jennifer's workplace strategies have been employed by some of the world's biggest companies and nonprofits in order to help employees feel like they belong and can bring their
full
selves to work. As a successful LGBT entrepreneur, Jennifer has been featured in media such as
The New York Times, The Wall Street Journal, Harvard Business Review, AdWeek, Bloomberg Businessweek, Forbes, Inc.,
CBS, and many more. Jennifer has spoken at many top conferences and events such as the International Diversity Forum, the Global D&I Summit, the Forum for Workplace Inclusion, the NGLCC International Business & Leadership Conference, the Out & Equal Workplace Summit, Emerging Women, SHE Summit, Responsive, the Better Man Conference, INBOUND, Interbrand's Best Global Brands event, as well as at organizations such as Allstate, Pepsico, the Bill and Melinda Gates Foundation, the NBA, Google, IBM, and many more.
Sara Minkara
Creator, "Discovery in the Dark"
Sara Minkara
, advocate, entrepreneur, and public speaker, is the Founder and President of the diversity & inclusion consulting firm Sara Minkara, LLC, the pioneer and creator of the "Discovery in the Dark" series, and the Founder and Board Member of Empowerment Through Integration. Leveraging all aspects of her identity—as a Blind, Muslim, Arab-American woman—Sara promotes "authentic inclusion" to create genuine empowerment – for herself and everyone she meets. Through virtual or in person Inspired Speaking engagements, her flagship "Discovery In The Dark" workshops, customized courses and one-on-one coaching sessions, Sara will facilitate a self-transformative journey to create authentic inclusion that will help you achieve your goals as an individual and in your organization. Her areas of expertise are: Inclusion and Representation, Women Empowerment, Leadership and Social Entrepreneurship. Sara has received multiple awards for her passionate advocacy, including Forbes 30 Under 30, the Echoing Green Fellowship, and the Clinton Global Initiative Outstanding Commitment Award. Sara holds her Bachelor of Arts in Math and Economics from Wellesley College and Master's in Public Policy from Harvard University.
Check back soon to see our breakout session topics and meet our breakout presenters.
Event Item Name Expires Pricing
Ticket - Member - Early Bird until July 15th! Jul 15, 2021 $75.00
Ticket - Non Member - Early Bird until July 15th! Jul 15, 2021 $95.00
Ticket - Member Sep 30, 2021 $99.00
Ticket - Non Member Sep 30, 2021 $125.00
Event Presenting Sponsor Sep 30, 2021 $4,500.00
Title Sponsor Sep 30, 2021 $4,000.00
Platinum Sponsor Sep 30, 2021 $3,000.00
Gold Sponsor Sep 30, 2021 $2,000.00
Silver Sponsor Sep 30, 2021 $1,500.00
Bronze Sponsor Sep 30, 2021 $1,000.00
REGISTER