Participate in an event
Upcoming Chamber Events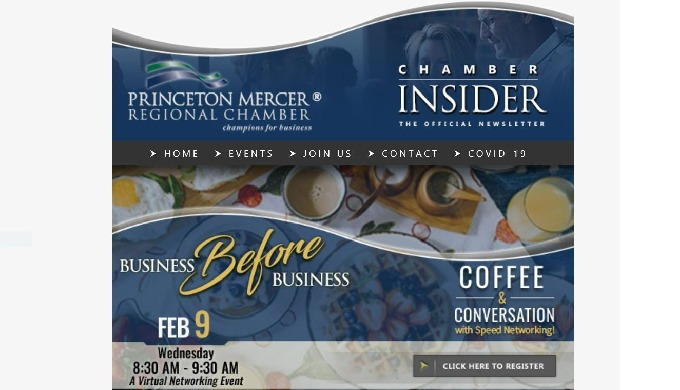 Start date: January 31, 2022 6:45 PM
End date: March 10, 2022 6:45 PM
Location: online and in person
⮞ home
⮞ events
⮞ join us
⮞ contact
⮞ covid-19
advertise with us!
⮞ learn more here
Jump to a section:
⮞ Upcoming Chamber Events
⮞ Featured Members
⮞ member news
⮞ chamber highlights
upcoming chamber events
⮞ See all events
February Business Before Business Networking
Virtual
Wednesday, February 9, 2022
8:30 AM - 9:30 AM
Networking over your morning coffee. Sounds like a great way to start off your day, doesn't it? Come join the Chamber for our February Business Before Business Virtual Networking event. Bring your coffee, tea, or beverage of choice and get re-engaged with your Chamber friends!
⮞ register here
Pitch Stop IV
In Person
Thursday, February 17, 2022
5:30 PM - 8:30 PM
Grounds For Sculpture |
Directions
Pitch Stop is back! Three local startups will take the main stage to compete for a prize package of professional services worth over $10,000. Join us in the chic East Gallery of our host sponsor Grounds for Sculpture to hear from innovative startups, and listen as they get feedback from seasoned investors. In addition to the main stage presenters, a selection of startups will have their product or service on display around the room. We've also included plenty of time for networking with innovators, entrepreneurs, and investors from across Central New Jersey.
⮞ register here
March Monthly Membership Luncheon
In Person
Thursday, March 3, 2022
11:30 AM - 1:30 PM
Princeton Marriott at Forrestal |
Directions
Speaker:
John Mack,
Ford Family Director of Athletics
, Princeton University
Champion for Business:
Tim Titus,
Career Ownership Coach
, The Entrepreneur's Source
Join us to hear from Princeton University's new Director of Athletics as he discusses the transition to a new norm in collegiate sports and behaviors as universities and communities return to normal.
⮞ register here
featured members
YWCA - Princeton
The Tribute to Women Awards is a signature YWCA Princeton event that was established in 1984 and has since honored exemplary women from the Greater Mercer County area who embody the YWCA mission, have demonstrated sustained leadership and exceptional talent, and who have made significant contributions to their professions.
⮞ Learn More
Mercer Bucks Pickleball Club
Please join us as we "cut the ribbon" on our new 9-court indoor Pickleball Club on February 18, 2022 at 11:00AM. We will be serving light refreshments and giving tours of our new state-of-the-art facility. Mercer Bucks Pickleball Club (MBPC) welcomes all levels of Pickleball players to have fun and get fit.
⮞ Learn More
member news
⮞ See all member news
Co-Creating Gender Balance in the Workplace – Not Just Another Diversity Training – Presented by SheTek and PamTen
SheTek, a non-profit organization initiated by PamTen, Inc., is offering a unique training program to enhance understanding and collaboration and to build a healthy culture of gender relations in the workplace. This 4 session bootcamp, "Co-Creating Gender Balance in the Workplace – Not Just Another Diversity Training", is a Level 1 workshop that will focus on practical applications that will lay the foundations of Gender Balance and Collaboration.
⮞ Read More
Self-Care is not an option, it's necessary!
When I help clients consciously create a life they love, it always starts with self-care. The act of hiring a coach is in itself an act of self-care. Often people think they don't have time to take care of themselves or that taking a day to restore their spirit is somehow selfish. Self-Care is not an option. It is necessary to live a full, abundant and happy life.
⮞ Read More
chamber highlights
Princeton Mercer Regional Chamber
619 Alexander Road, Suite 101
Princeton, NJ 08540
(609) 924-1776
⮞ Join Us
Email engine provided by CaddisArt, Inc., a proud sustaining sponsor of the Princeton Mercer Regional Chamber.
Princeton Mercer Regional Chamber | 619 Alexander Road, Suite 101, Princeton, NJ 08540