Kompass Business Directory - CHAUVIN ARNOUX
12 RUE SARAH BERNHARDT
12-16
92600 ASNIERES-SUR-SEINE
France
Latest products added CHAUVIN ARNOUX
Additional information
| | |
| --- | --- |
| Kompass ID? | FR1028616 |
| Membership | Booster |
Legal information - CHAUVIN ARNOUX
| | |
| --- | --- |
| Nature | Headquarters |
| Year established | 1956 |
| Legal form | SAS, société par actions simplifiée |
| Activity (NAF08) | Manufacture of scientific and technical instruments (2651B) |
| Corporate capital | 13,387,757 EUR |
| SIREN | 572 075 836 |
| SIRET (Siège) | 572 075 836 00468 |
| VAT no | FR21 572075836 |
| No employees (address) | 100-249 Employees |
| No employees | 500-999 Employees |
Presentation - CHAUVIN ARNOUX
Société spécialisée dans le domaine de la fabrication et la distribution des instruments de mesure : instruments de mesure pour l'installation, la surveillance, l'analyse et la maintenance des réseaux de distribution d'énergie électrique dans l'industrie METRIX, instruments de mesure pour la R&D avec service de contrôle et de maintenance de cartes ou d'équipements, de tableaux d'équipements pour les installations électriques MT/BT...
Company catalogues - CHAUVIN ARNOUX
Company's Videos - CHAUVIN ARNOUX
General Information - CHAUVIN ARNOUX
Export area
Asia-Pacific, North America, West. Europe, Central/East Europe, Africa, Middle East
M Axel Arnoux
Chairman (Président du conseil de surveillance)
M Daniel Arnoux
Director (Membre du conseil de surveillance)
M Wolfgang Arnoux
Director (Membre du conseil de surveillance)
M Patrick Yaicle
MD/Chief Operating Officer (Directeur Général)
M. Pascal Bonouvier
Commercial Director/Manager (Directeur Commercial France)
M. Vincent Pelletier
Marketing Director/Manager (Responsable Marketing)
Mme Marlyne Epaulard
Communications Director/Manager (Directeur de la Communication Groupe)
M. Philippe Contant
Export Director/Manager (Directeur Export Test & Mesure)
M. Pierre Malpertuy
Industrial Director/Manager (Directeur Industriel)
M. Ioan Fratilla
General Services Director/Manager (Responsable des Services Généraux)
M. Laurent Grignon
Communications Director/Manager (Responsable Communication)
M. Alain Burtz
Engineer (Ingénieur Technico-commercial)
News - CHAUVIN ARNOUX
New product
To save energy and consume better, the PEL100 models record everything!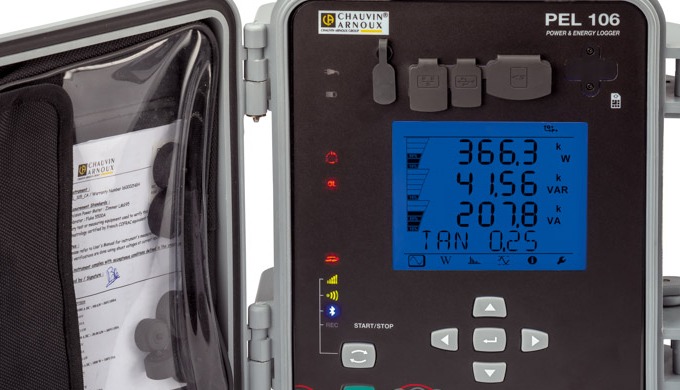 Date: March 12, 2021 11:04 PM
End: December 31, 2022 11:04 AM
Two new models are being launched to complete Chauvin Arnoux's range of PEL100 loggers: the IP67 all-terrain PEL106 and the PEL104 for applications on electric motors. They offer new measurement modes, new communication modes, 3G/GPRS, and potential new applications! For generators or major consumers of electricity, certification organizations, electricians and maintenance technicians, the PEL100 loggers are ideal for requirements involving:

- Power and energy metering (EN ISO 14001)
- Energy efficiency (European directive 2012/27/UE)
- Electricity consumption auditing (NF EN ISO 50001)
- Validation of actual energy consumption
- Maintenance & diagnostics
New product
CA 1310 Class 2 sound level meter from Chauvin Arnoux: keeping noise under control!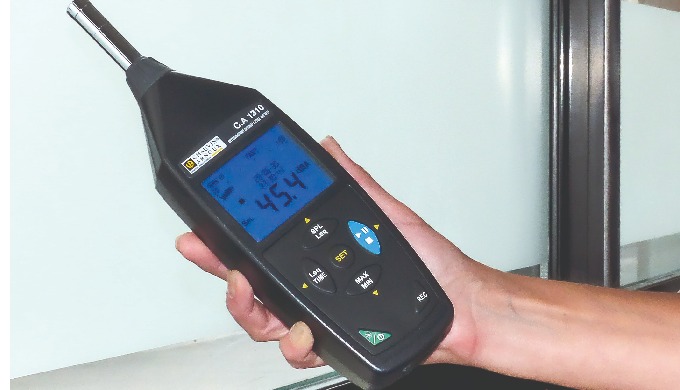 Date: March 12, 2021 11:12 AM
End: January 1, 2023 11:12 AM
Compact and lightweight, the CA 1310 integrating sound level meter offers a comfortable grip for intensive use. There is also a tripod insert provided for prolonged use in a fixed position. The various functions are accessible on the front panel of the instrument. The wide backlit screen displays the results simultaneously in digital and bargraph form, with time/date‐stamping. The 60‐hour battery life enables you to record up to 64,000 measurement points. It can also be recharged by connection to its micro‐USB port.

The CA 1310 is equipped with a foam wind‐shield for outdoor measurements and a microphone with a 5‐metre cable for remote use.
The CA 1310 sound level meter can be used to measure and control noise impact in the environment:
- exposure to noise in the workplace,
- noise of HVAC systems
- building acoustics, neighbourhood problems, etc.
- to draft noise nuisance reports…

The CA 1310 sound level meter offers 2 types of measurement: 'instantaneous' (SPL) or 'equivalent continuous sound level' (Leq). For continuous equivalent sound level (Leq) measurements, the integration time can be set to periods from 10 sec to 24 hrs. The CA 1310 can record up to 64,000 measurement points, with a sampling rate definable directly in the instrument's SETUP menu.
The SL‐Software PC software can be used to monitor the measurements in real time, view the data and export them for analysis or measurement report generation
Location - CHAUVIN ARNOUX
Opening hours - CHAUVIN ARNOUX
Key figures - CHAUVIN ARNOUX
Turnover
Operating income
Net profit
Activities - CHAUVIN ARNOUX
Producer
Distributor
Service provider
Main activities within the Kompass classification
Other classifications (for some countries)
NAF Rev.2 (FR 2008) : Manufacture of scientific and technical instruments (2651B)
NACE Rev.2 (EU 2008) : Manufacture of instruments and appliances for measuring, testing and navigation (2651)
Conventions Collectives : Convention collective nationale des ingénieurs et cadres de la métallurgie (0650)
Conventions Collectives : Convention collective régionale des ouvriers, employés, techniciens et agents de maîtrise des industries métallurgiques, mécaniques et connexes de la région parisienne (0054)
ISIC 4 (WORLD) : Manufacture of measuring, testing, navigating and control equipment (2651)
Secondary activities within the Kompass classification